4 Red Flags to Look for During Your Next Interview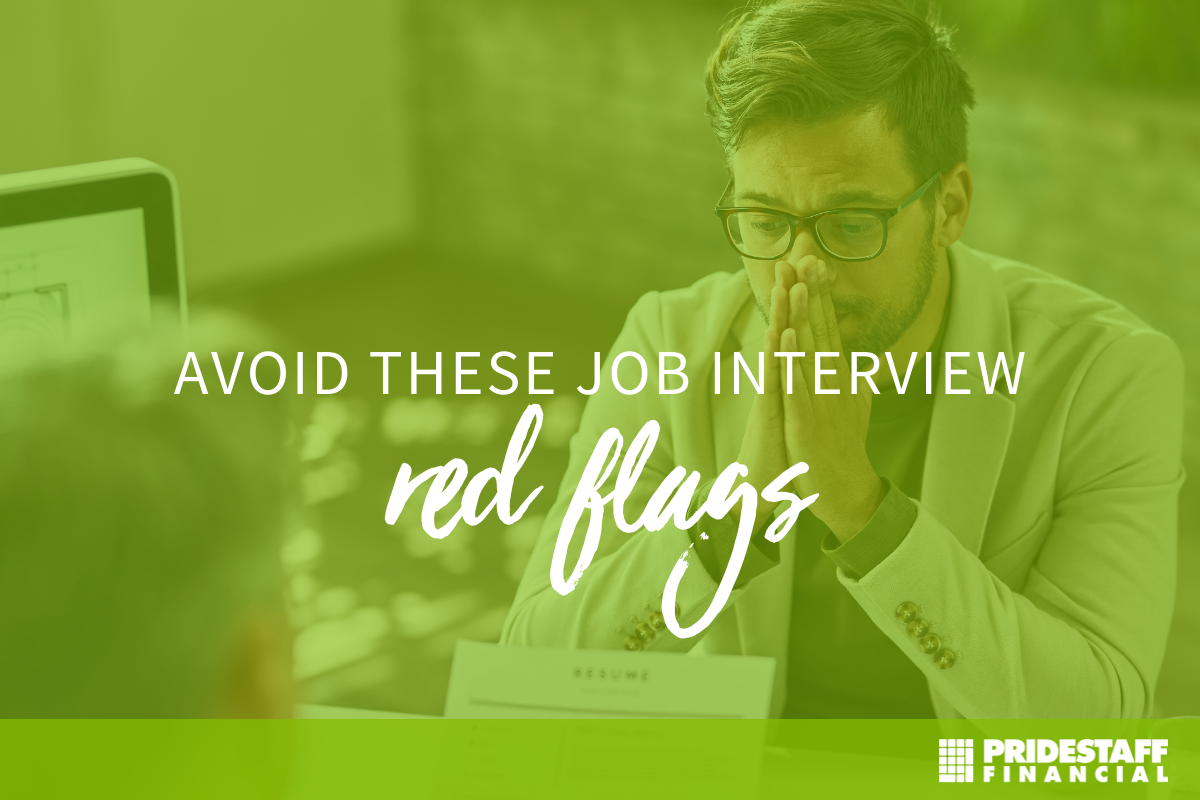 Shopping for a job—or a new career—is a daunting task and can be time-consuming. When you land that coveted interview you've worked so hard for, it's an exciting feeling. Or, at least, it should be. So, what happens when you leave an interview more confused and perplexed about the job than when you applied? You thought you knew the company you were applying to, right? But instead of feeling great leaving the interview, you have nagging thoughts about the employer. Here are some red flags to be on the lookout for during your next interview.
1. The hiring manager can't paint a clear picture of the job:
No matter whether you're applying to be an entry-level staff accountant or a senior-level position, the interviewer should be able to explain the responsibilities of the role, the tasks you may perform, and how success will be measured. If they can't do that, you will likely have difficulty forging a clear career path within the company.
2. Turn-over rate is high:
If there is a pattern of employee turn-over, whether due to high-stress, low-morale office culture, or toxic leadership, this can be a red flag. If you learn that previous employees didn't stay long at the company, and there's no evidence of tenure among the staff, you might have a bad-boss situation or a toxic work environment. Vette this during the interview by asking about some of the more senior-level employees, how long people have been with the company, and if you can talk to a few employees to get a sense of work culture.
3. Answers to your questions are vague:
It's never appropriate for the interviewer to reveal personal information about a previous employee. But the hiring manager should be able to address any queries you have about the expectations for the position and provide some history about the role and its influence on company operations and future goals. If they can't give direct answers to valid questions you ask, then that is an indicator that the job itself hasn't been thoroughly thought out before starting the hiring process for it.
4. Can't get a word in:
It says quite a lot if, during the interview, the interviewer talks much more than you do. Keep an eye out if the interviewer doesn't appear to listen to your comments or ask thoughtful questions about your career goals and past accomplishments. You can tell whether a manager is really interested and engaged by observing their body language, eye contact, and overall etiquette during the interview.
Connect with PrideStaff Financial
PrideStaff Financial has consistently won awards for exceptional candidate-job satisfaction. Our highly skilled staffing consultants can help find you the right job or guide you to the perfect career. Contact us today to learn more.