Graduating? Congratulations, Now Get a Job!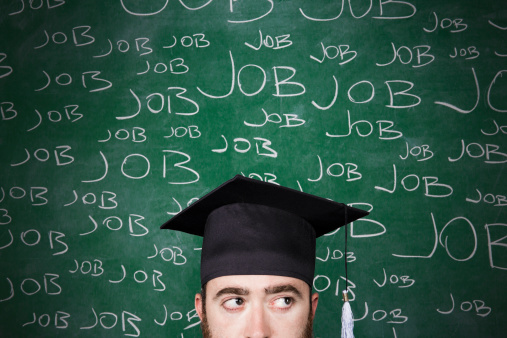 With only weeks left until graduation, many of you are balancing celebrations with looking for work. Some of the lucky few will land jobs after junior-year internships, but the vast majority of graduates will leave college without work lined up. According to the National Association of Colleges and Employers (NACE), 8.3% more graduates will be hired this year, compared to previous years; 16% of students will be hired before the last semester. The reason for the increase? Company needs and anticipated retirements, according to the NACE survey. PrideStaff Financial has some tips to get you from the cap and gown to the suits and skirts.
Look for a springboard: This is the time of millennials, and the trend is toward multiple jobs throughout one's lifetime. Changing jobs every year is not the goal, but looking for a job that can be a jumping off point is. Choosing your first job out of college doesn't sign you up for lifelong service with that company. It is a chance to explore a new field, build networks, and gain experience that will serve you regardless of where your career path goes. The thinking is—position yourself for the future. It's all about giving yourself the tools you need to strengthen your marketing campaign for future jobs. Gaining experience out of college opens the door to other possibilities, and that is the primary focus. It's all about baby steps, not giant leaps.
Learn to network now: It goes without saying that networking opens doors to new realms of possibilities. Networking not only gives you insight into a field that you may not have a wealth of knowledge about, but it gives you face time with key figures in your industry that can help you down the road. Learning to network before you even don the cap and gown sets you up for a potential job opportunity you may never have thought of.
Set goals early: You may think you still have time, but time goes quickly. It can feel daunting, but an overachiever such as yourself is up for the challenge. Put a plan together that allows you to tackle certain goals each week, giving you a chance to cut into your "to-do" list a chunk at a time instead of looking at the whole picture. Start by making a list of your interests, skills, desired jobs, work culture comfort, and work policies. Join an alumni network at your campus and start attending meetings or events. Create a LinkedIn account, and start cleaning up social media profiles. Create or update your resume and start making a folder of job listings to apply to; and apply to your heart's content. The purpose is to tackle one goal a week until graduation and then see what results have built up. Leave no rock unturned, and you may find yourself in a great position before walking out those college doors for good.
PrideStaff Financial, one of the nation's leading recruiting firms, wants to see you be part of that 8.3 hiring percentage out of college. Contact our financial consultants today, and find out how we can help you get to your goals faster.