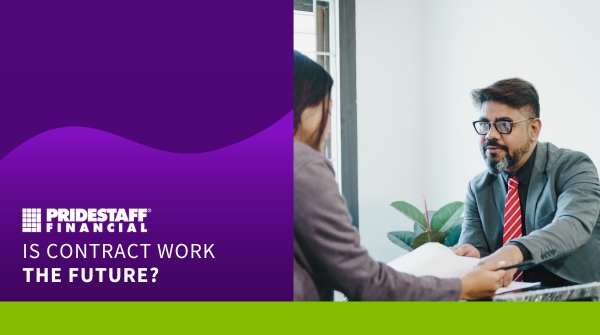 More and more workers are opting for the freedom of contract work instead of full-time positions. Here are the pros and cons.
Why are people choosing contract work?
Contract positions can give people the opportunity to work on a variety of different projects, either consecutively or at the same time. Unlike in full-time positions where workers spend most of their time using the same skills and performing the same tasks, in contract work, people get a more well-rounded experience. Doing different duties may allow people to gain more skills that can be used in other positions in the future. Contract work has become appealing because it allows candidates the opportunity to flex their skills and take on different roles and duties, almost "trying on a company for size."
Pros:
Doing contract work allows for freedom of choice. For example, maybe you want to lean into your current skills or ones that may help you develop new ones. You can also choose where and when you work, however, this depends on the type of work. Another pro is that it helps you create connections. Big companies can hire contractors for specific projects or tasks. This may allow you to get experience with their business models and understand their company culture. Having work experience with prominent companies is also an asset to a resume and can make you more appealing to competitors or other notable businesses when looking for full-time work or other contracts. It allows you to work with recruiters. You may not realize it, but working with recruiters is an asset. This may help you transition quickly from one contract to the next without doing a lot of independent research. It's a great placeholder until you find full-time work that suits you. Lastly, it allows you to test out an industry before you dive in full-time.
Cons:
While yes, there are many benefits, there are also a few cons to contract work. First, there are few tax options with this style of working. Companies don't take income taxes, pension plan contributions, or other deductions from a contract worker's paycheck. While this may put more money in your bank account in the short term, you may need to do more work during tax season to ensure you're compliant with any fees or make sure you are putting money aside to pay taxes at the end of the year. There are also fewer benefits to contract work. For example, a contract job may pay you extra to obtain your own health insurance but they are not offering to cover your health insurance benefits. That means you need to shop on your own and pay for it yourself or a subsidized state plan. While contract work makes it possible to meet new people and network, the ability to make lasting long-term relationships is harder. Consider contacting some of your coworkers to get to know them better or taking part in optional company events or team-building exercises to meet new people.
PrideStaff Financial has consistently won awards for exceptional candidate job satisfaction. Our highly skilled staffing consultants can provide guidance in helping you navigate your career and guide you into the right contract or full-time work. Contact us today to learn more.