What to Include in a Great Accounting Job Description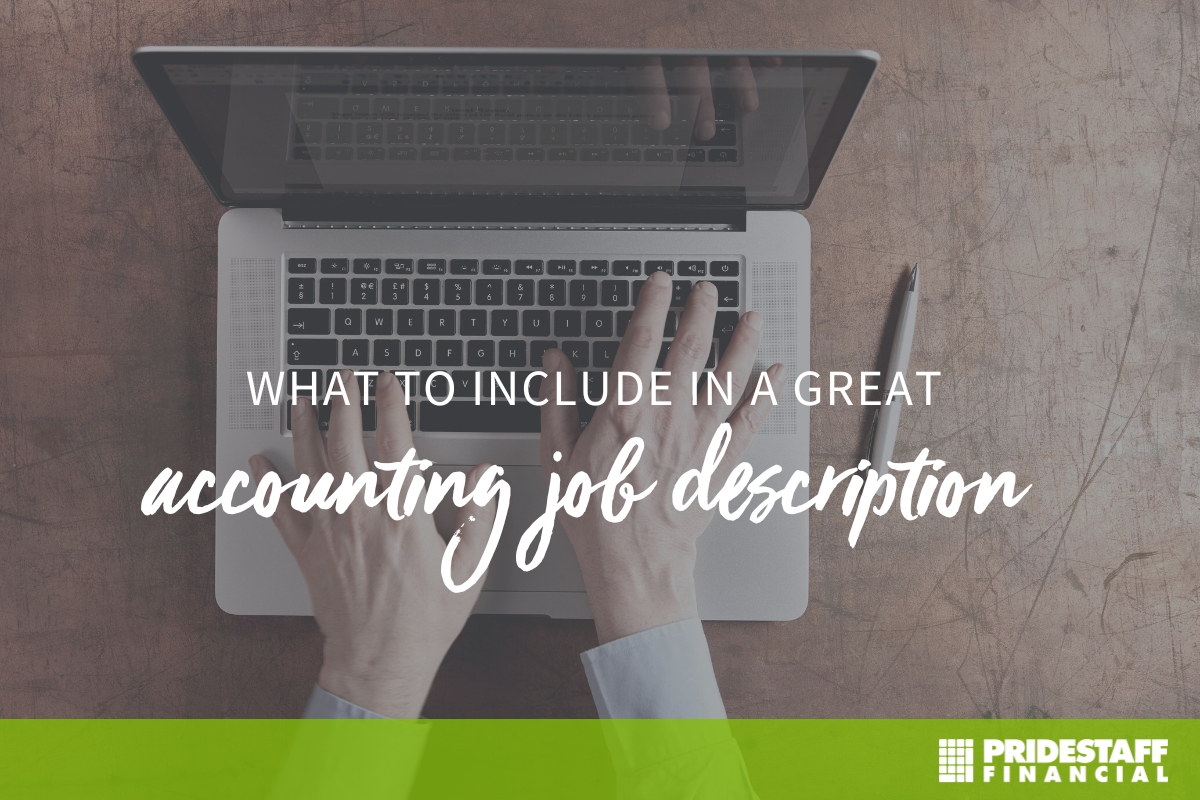 Job descriptions are an important focus for companies because they give a first impression to prospective employees. Not only should job descriptions list key responsibilities, but they should promote the company's values and the benefits of working on your team. If you want to wow job candidates, then take these steps to make your job descriptions stand out.
It all comes down to the writing:
Job descriptions are about the writing. You want to write short compelling copy. You want to give an idea of what your company is about. Worry less about the process aspects of the job and hit key aspects that make people interested in the role, like your core values and competencies for success.
Be original:
Accounting Today recommends avoiding patterns and copying job descriptions from the Internet. When working on creating a job description, think about the ideal profile applicable to your company. What skills are essential for solving a particular problem? Don't overload it with details. Candidates can be confused by the list of requirements. Instead, picture the type of candidate you would like to see walk through those doors—now write your job description, targeting that ideal candidate.
Be clear:
Let the job seeker know that the requirements section is a set of desired skills that would add value and not an expectation that the selected candidate will be proficient in all of them. Sharing this, and being open about this will help encourage more women and diverse candidates to apply and also demonstrate to all candidates that you have a supportive learning culture and there is room to grow in the role.
Focus on three pillars:
Three pillars of a great job description are the "can do," "will do," and "will fit." A resume and references will tell you if the candidate can do the job. Instead of listing "other duties assigned," list things like one hour of manning the front desk, departmental bookkeeping assignments, the most likely "will do." Lastly, truthfully explain the company culture to assist with assessing the fit of a candidate.
Inclusivity:
It's all about inclusivity these days, that is our worldly culture, and you must make sure a job description reflects that. The key to getting a prospect to even entertain working at your organization is to establish a connection. The first step in doing this, and reaching the widest possible candidate pool, is by ensuring your job descriptor language is inclusive and highlights both access to opportunity and a positive working environment and culture.
Branding:
Yes, even job descriptions should be about branding your company message. Oftentimes, job descriptions become formulaic for companies and are repeatedly updated versus rethought. Be sure to write in a voice consistent with your company's personality and culture (there's that word again). If the job description comes off overly formal in comparison to your company style, you may lose candidates, and you may turn off the best candidates.
Accounting focused:
While accountants should have certain certifications, schooling, and technical skills, these aren't the only areas that need attention. Accountants are more often asked to do things that involved people skills, consulting, IT, and problem-solving. When addressing key areas of importance like education, certifications, and technical skills, make sure to have soft skills listed as well (like critical thinking, presentation/public speaking—desired, strong communication, multicultural awareness, and sensitivity.)
Need help with accounting job descriptions or recruitment?
PrideStaff Financial has consistently won awards for exceptional client satisfaction. Our highly skilled staffing consultants offer tips and support, so you find the right candidates for your company. Contact us today to learn more.