EXPLODING OUT OF THE BOX: PrideStaff Financial Honors Juliet Dirlam With First "ROOKIE OF THE YEAR" Award
March 28, 2019
---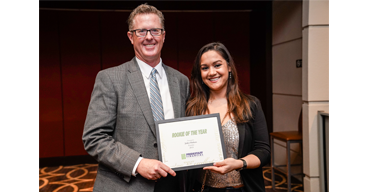 To recognize outstanding performance during her first full year as a Staffing Consultant, Juliet Dirlam was named PrideStaff Financial's first Rookie of the Year. Part of the PrideStaff Companies, PrideStaff Financial created this new award to honor the PrideStaff Financial Staffing Consultant who generates the highest gross margin during their first full year in production.
Dirlam exploded out of the box when she stepped into a sales role. She increased her production by more than 100% in just 12 months, helping Strategic-Partner Sean Akin's PrideStaff Financial Fresno office dramatically increase in their year-over-year growth rate.
Ryan Williams, Vice President of PrideStaff Financial, was thrilled to recognize Dirlam for achieving this unprecedented level of early success, which also reflects the greatest individual gross margin growth division-wide. "Juliet had competition from Staffing Consultants in other markets, but she quickly distinguished herself as the obvious choice for this award by taking her business to the highest level," said Williams. "The Rookie of the Year Award directly represents a Staffing Consultant's success in helping talented accounting professionals move forward in their careers, while providing our clients with the accounting and finance professionals they need to thrive. Ultimately, the high level of service Staffing Consultants like Juliet provide to clients and candidates has helped PrideStaff Financial become one of the fastest growing accounting and financial staffing firms in the nation."
When interviewed, Dirlam attributed her early success to her own hard work and PrideStaff Financial's unparalleled support. "I started as a new Staffing Consultant without any experience in the industry, so the Rookie of the Year title is very special to me! Helping others has always been my goal, and to get this award in recognition of that is just the icing on the cake," said Dirlam. "I think persistence and listening to what our clients and candidates value most have really helped me to achieve my goals. PrideStaff Financial really gave me every tool and resource possible to set me up for success, and I feel very lucky to be a part of such an amazing organization."
About PrideStaff Financial
A division of PrideStaff, PrideStaff Financial specializes in accounting and financial staffing. The parent company was founded in the 1970s as 100 percent company-owned units and began staffing franchising in 1995. They operate over 80 offices in North America to serve over 5,000 clients. With over 40 years in the staffing business, headquartered in Fresno, CA, all PrideStaff brands offer the resources and expertise of a national firm with the spirit, dedication and personal service of smaller, entrepreneurial firms. For more information on PrideStaff Financial services, visit www.pridestafffinancial.com.
PrideStaff and PrideStaff Financial's shared Mission: Consistently provide client experiences focused on what they value most.
---
« Return to press room