PrideStaff and PrideStaff Financial Dallas Named to Dallas Business Journal's 2023 Best Places to Work List
September 11, 2023
---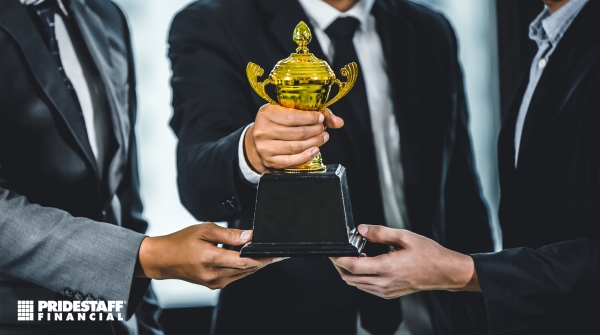 PrideStaff and PrideStaff Financial Dallas are pleased to announce that they were named to the 2023 Best Places to Work list by the Dallas Business Journal.
The Best Places to Work Award is an annual program that recognizes companies with the highest employee survey scores among peer companies in their size category. To create the 2023 list, independent research firm Quantum Workplace surveyed employees from more than 330 nominated companies, and PrideStaff and PrideStaff Financial Dallas were named a winner in the Micro category (organizations with 10 to 24 employees).
Recognition for excellence is nothing new for the Dallas staffing and employment agency. They also made it on the Best Places to Work in North Texas list in 2015 and 2021, won the 2022 Addison Readers' Choice Award, and were ranked #8 on the Dallas Business Journal's 2022 list of North Texas' Largest Staffing Agencies.
Amy Linn, CSP and Co-Owner/Strategic-Partner of PrideStaff Dallas, is thrilled that her office made the list again this year. "My partner, Julie Vicic, and I strive to create a work environment in which employees' roles align with their strengths and preferences," stated Linn. "Receiving this award is especially meaningful because it validates that we've accomplished our goal of engaging our team in work that's both fulfilling and meaningful."
"PrideStaff Dallas is continually rated as one of the best places to work because of our reputation, best-in-class processes and industry-leading technology, but at the end of the day, it comes down to our culture," continued Linn. "Over the years, our management team has made a concerted effort to create a great work experience for each employee. By finding new ways to recognize individual achievements, embracing workplace flexibility, creating clear paths and providing opportunities for professional growth, we've created a great 'work home' for our team – and it's evidenced in our employee performance, retention rates and awards like this one."
About the Dallas Business Journal
Founded in 1977, the Dallas Business Journal is the premier source for local business news, research and events in Dallas-Fort Worth. From breaking news to live events, the Business Journal serves its readers by helping them grow their businesses, grow their careers and simplify their professional lives.
About PrideStaff Financial
A division of PrideStaff, PrideStaff Financial specializes in accounting and financial staffing. The parent company was founded in the 1970s as 100% company-owned units and began staffing franchising in 1995. They operate over 80 offices in North America to serve more than 5,000 clients. With 40 plus years in the staffing business, headquartered in Fresno, CA, all PrideStaff brands offer the resources and expertise of a national firm with the spirit, dedication and personal service of smaller, entrepreneurial firms. For more information on PrideStaff Financial services, visit our website.
PrideStaff and PrideStaff Financial's shared Mission: Consistently provide client experiences focused on what they value most.
---
« Return to press room