PrideStaff Expands: Morristown-Parsippany Office Launches New Accounting and Financial Staffing Division
October 3, 2023
---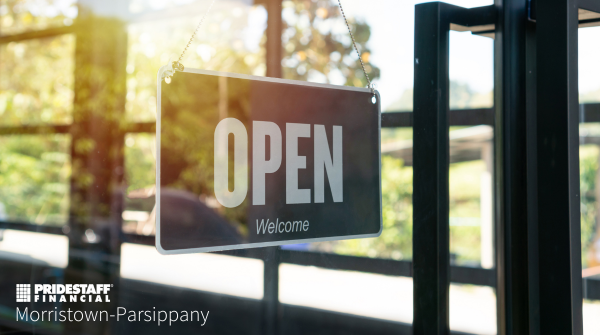 PrideStaff, a nationally franchised staffing organization, is pleased to announce that their Morristown-Parsippany office has added a PrideStaff Financial division to their existing PrideStaff and G.A. Rogers & Associates operations.
Building on the tremendous success of their PrideStaff division, PrideStaff Financial Morristown-Parsippany will specialize in accounting and financial staffing, offering expanded services for area companies seeking accounting, bookkeeping, and finance specialists. Owners/Strategic-Partners Dino and Giselle Bavaro will be heading the new PrideStaff Financial division, a significant step forward in their commitment to better serve their finance and accounting partners in the Morristown-Parsippany market. "Our success is achieved through strong partnerships and a deep understanding of our clients' and candidates' needs," stated Dino Bavaro. "By listening to our clients and candidates, we're able to make mutually rewarding connections based on shared values.
"For employers, our new PrideStaff Financial division will build a top-notch talent bench that will hit the ground running, bringing outstanding skills and expertise to their organizations," continued Bavaro. "Similarly, we're committed to helping our candidates achieve their career goals by swiftly connecting them with a wide range of job options."
"Whether you're an employer in need of top financial talent or a job seeker searching for that perfect role, Dino, Giselle, and their team excel at connecting ambition with opportunity. Their thriving professional network ensures they can effectively and efficiently match qualified accounting and finance professionals with employers who will drive their careers forward," stated Ashli Fernandez, VP of PrideStaff Financial. "Supported by PrideStaff's well-known reputation for service excellence and proven business model, we're excited to see the positive impact PrideStaff Financial Morristown-Parsippany will have for job seekers and employers in their market."
As a national staffing services organization, PrideStaff Financial provides outstanding service and results by removing the guesswork from staffing. PrideStaff Financial was developed to meet the specific staffing needs and challenges associated with accounting and finance, from accounts payable and receivable staffing to executive recruiting.
About PrideStaff Financial
A division of PrideStaff, PrideStaff Financial specializes in accounting and financial staffing. The parent company was founded in the 1970s as 100% company-owned units and began staffing franchising in 1995. They operate over 85 offices in North America to serve more than 5,000 clients. With 40 plus years in the staffing business, headquartered in Fresno, CA, all PrideStaff brands offer the resources and expertise of a national firm with the spirit, dedication and personal service of smaller, entrepreneurial firms. For more information on PrideStaff Financial services, visit our website.
PrideStaff and PrideStaff Financial's shared Mission: Consistently provide client experiences focused on what they value most.
---
« Return to press room