PrideStaff Financial Celebrates its 15th Anniversary of Accounting and Financial Staffing
September 12, 2022
---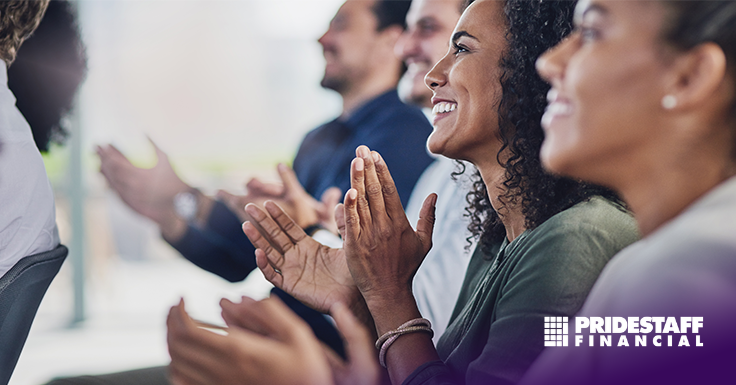 PrideStaff Financial is thrilled to announce its fifteenth anniversary of providing award-winning accounting and finance staffing services across the nation. A natural extension of PrideStaff's recruiting and placement franchise, PrideStaff Financial addresses clients' niche staffing needs in the financial sector.
With 19 thriving locations offering accounting and financial services, PrideStaff Financial continues its commendable growth and longevity providing outstanding service and results by removing the guesswork from staffing. PrideStaff Financial is proud to live out its mission to "Consistently provide client experiences focused on what they value most," leveraging extensive national recruiting resources to efficiently connect the right accounting and finance professionals with roles where they can make a real impact.
PrideStaff Financial Vice President, Ashli Fernandez, took the helm in March of 2022 and has continued to build value within the brand amidst labor shortages, a volatile economy, and the changing needs of job seekers. She credits the exceptional commitment and vision of their executive leadership, outstanding home office support, and the dedication of the Strategic-Partners who have invested in an opportunity to diversify and expand their markets for the division's continued success.
"I'm incredibly excited to build on PrideStaff Financial's strong foundation, add offices throughout the U.S., expand our market share, says Fernandez. "By understanding our partners' needs, and swiftly adapting to provide value during tumultuous times, we've been able to provide the vision, leadership and strategies our accounting and finance clients and candidates need to reach their business and career goals. As we continue to grow, we're eager to meet future challenges and continue to improve the reliable and dedicated service that is the hallmark of PrideStaff Financial."
"Congratulations to everyone who has contributed to the tremendous growth and success of PrideStaff Financial," stated PrideStaff Co-CEO and COO, Tammi Heaton. "This division allows us to support a wider range of clients and job seekers in the accounting and finance sector, proactively recruiting top professionals and finding them top roles with outstanding companies. PrideStaff Financial has become the trusted guide for accounting and finance professionals looking to advance in their careers, and a dedicated partner to clients looking for the best talent in their industry. We're looking forward to continued growth—and to meeting our clients' specialized needs in an extremely tight candidate market."
Through its devotion to delivering a truly exceptional client and candidate experience, PrideStaff Financial has received multiple awards, including ClearlyRated's coveted Best of Staffing® 10-Year Client and Talent Diamond Awards, for providing superior service to their clients and candidates for at least ten consecutive years. The 10-year Diamond Award is earned by less than .5% of all accounting and financial staffing firms in the U.S., placing PrideStaff Financial in a truly elite group of companies that lead the industry in satisfaction.
About PrideStaff Financial
A division of PrideStaff, PrideStaff Financial specializes in accounting and financial staffing. The parent company was founded in the 1970s as 100% company-owned units, and began staffing franchising in 1995. They operate over 85 offices in North America to serve over 5,000 clients. With 40 plus years in the staffing business, headquartered in Fresno, CA, all PrideStaff brands offer the resources and expertise of a national firm, with the spirit, dedication and personal service of smaller, entrepreneurial firms. For more information on PrideStaff Financial services, visit our website.
PrideStaff and PrideStaff Financial's shared Mission: Consistently provide client experiences focused on what they value most.
---
« Return to press room