PrideStaff Financial Named to ClearlyRated's Best Staffing Firms for Women List
June 6, 2023
---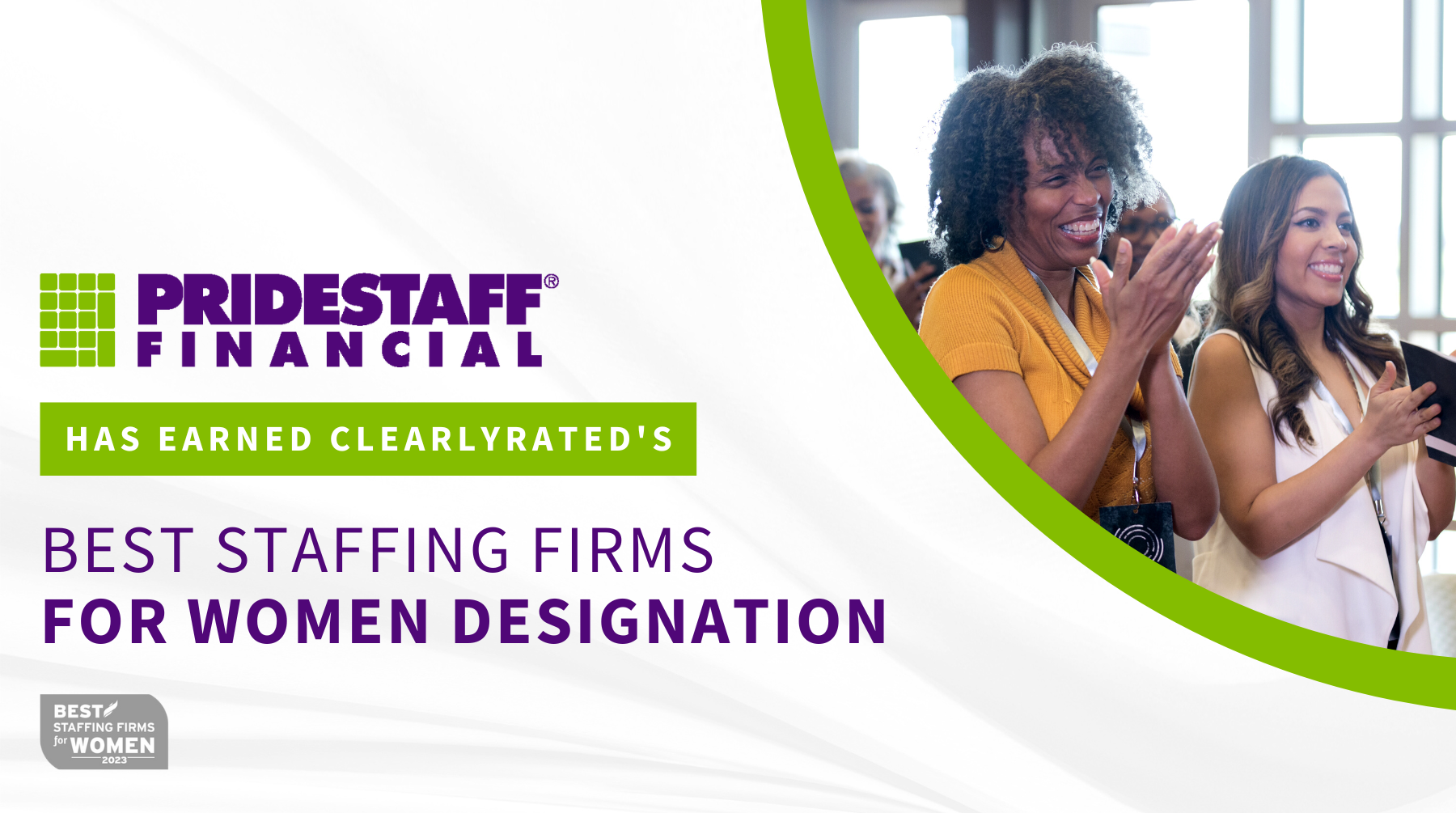 PrideStaff Financial, a division of The PrideStaff Companies, is honored to announce that they have been named to ClearlyRated's inaugural list of Best Staffing Firms for Women for providing a superior experience for their female internal employees.
As a 2023 winner of ClearlyRated's Best of Staffing® Employee Satisfaction Award, PrideStaff Financial earned the additional designation of Best Staffing Firms for Women for meeting or exceeding size, satisfaction, representation, opportunity, and equity criteria, including the following:
PrideStaff Financial received a Net Promoter Score (NPS) of 50 or above from those who identify as Female.
Females represent at least 47% of total PrideStaff Financial leadership roles.
There is no significant gap in satisfaction between male and female employees at PrideStaff Financial.
Fewer than 0.2% of staffing firms in the United States and Canada qualified to earn the Best Staffing Firms for Women designation, making this a prestigious award that highlights PrideStaff Financial's efforts to support women in the workplace. PrideStaff Financial is also the only firm specializing in accounting and financial staffing in the U.S. and Canada to earn ClearlyRated's Best of Staffing® Client Award thirteen years in a row and Best of Staffing® Talent Award fourteen years in a row, as well as their 10-Year Diamond Award for both client and talent satisfaction for four consecutive years. These rare honors place PrideStaff Financial in the top 1% of its industry. PrideStaff Financial's 2022 NPS scores and its well-established track record of superior employee satisfaction prove that PrideStaff Financial is truly in a class by itself—an exceptional staffing firm that is also a fantastic place for women to work.
"At PrideStaff Financial, we understand that it takes effort and intention to create an exceptional employee experience. We are relentless in our pursuit of creating a workplace where every team member feels not just welcomed, but truly valued and supported," said Ashli Fernandez, Vice President of PrideStaff Financial. "Our people are the heart of our company and the driving force behind our ability to carry out Our Mission to 'Consistently provide client experiences focused on what they value most.'
"Our executives, franchise owning Strategic-Partners, and managers are dedicated to fostering an environment that celebrates and rewards all individuals," Fernandez continued. "Receiving an award based solely on anonymous feedback from our own employees holds profound significance. It validates the strength of our culture, one that champions diversity, nurtures employee well-being, and fosters growth opportunities. Investing in our employees' experience cultivates a dynamic culture that prioritizes happiness and engagement, ultimately translating into an increased commitment to delivering great results for our clients and candidates."
"I'm incredibly proud of the recipients of the inaugural Best Staffing Firms for Women designation," said ClearlyRated's CEO, Eric Gregg. "In an ideal world, this award wouldn't even be necessary. Unfortunately, however, gaps in pay and advancement persist in the staffing industry and beyond. The firms that earned inclusion on the Best Staffing Firms for Women list have created equitable, safe, and supportive workplaces for women, and I couldn't be more excited to share this news far and wide."
About PrideStaff Financial
A division of PrideStaff, PrideStaff Financial specializes in accounting and financial staffing. The parent company was founded in the 1970s as 100% company-owned units and began staffing franchising in 1995. They operate over 80 offices in North America to serve more than 5,000 clients. With 40 plus years in the staffing business, headquartered in Fresno, CA, all PrideStaff brands offer the resources and expertise of a national firm with the spirit, dedication and personal service of smaller, entrepreneurial firms. For more information on PrideStaff Financial services, visit our website.
PrideStaff and PrideStaff Financial's shared Mission: Consistently provide client experiences focused on what they value most.
About ClearlyRated
Rooted in satisfaction research for professional service firms, ClearlyRated utilizes a Net Promoter® Score survey program to help professional service firms measure their service experience, build online reputation, and differentiate on service quality. Learn more here.
---
« Return to press room