PrideStaff Financial Wins 2021 Best of Staffing® Employee Satisfaction Award
February 3, 2021
---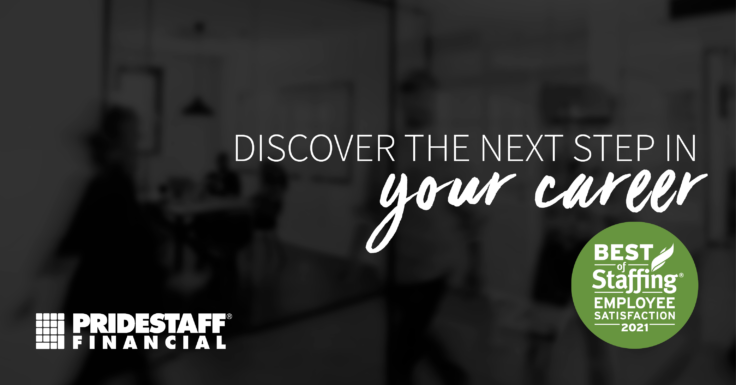 PrideStaff Financial, part of The PrideStaff Companies, is pleased to announce that they have earned one of ClearlyRated's Best of Staffing® Employee Satisfaction Awards for providing superior service to their internal employees.
This is the inaugural year for this award, which recognizes agencies for excellence in employee satisfaction based entirely on ratings provided by their staff. PrideStaff Financial received a Net Promoter® Score of nearly double the industry's average of 38. The organization is also the only firm specializing in accounting and financial staffing in the U.S. and Canada to earn ClearlyRated's Best of Staffing® Client and Talent Diamond Awards for customer satisfaction seven years in a row.
"Our employees are the lifeblood of our business; without them, we wouldn't exist," said Ryan Williams, Vice President of PrideStaff Financial. "PrideStaff Financial values the contributions of every member of our organization – from Strategic-Partners to recruiters to front-office staff – which is why we work diligently to ensure each team member feels included, rewarded and supported to do their very best work."
"We are honored to win a Best of Staffing Employee Satisfaction Award in the program's inaugural year, and to be recognized as a pioneer in service excellence by our internal staff," continued Williams. "As we look to the future, we will continue to raise the bar on our employee experience to make PrideStaff Financial a great place to work, and a great partner to work with."
"In perhaps the most turbulent year of a generation, our inaugural year of recognizing top employers with the Best of Staffing award for employee satisfaction showed that elite staffing firms put their internal teams first to help them emerge stronger," said ClearlyRated's CEO and Founder, Eric Gregg. "It is my honor to celebrate and showcase the 2021 Best of Staffing winners on ClearlyRated.com."
About PrideStaff Financial
A division of PrideStaff, PrideStaff Financial specializes in accounting and financial staffing. The parent company was founded in the 1970s as 100 percent company-owned units and began staffing franchising in 1995. They operate over 80 offices in North America to serve over 5,000 clients. With over 40 years in the staffing business, headquartered in Fresno, CA, all PrideStaff brands offer the resources and expertise of a national firm with the spirit, dedication and personal service of smaller, entrepreneurial firms. For more information on PrideStaff Financial services, visit our website.
PrideStaff and PrideStaff Financial's shared Mission: Consistently provide client experiences focused on what they value most.
About ClearlyRated
Rooted in satisfaction research for professional service firms, ClearlyRated utilizes a Net Promoter® Score survey program to help professional service firms measure their service experience, build online reputation, and differentiate on service quality. Learn more here.
About Best of Staffing
ClearlyRated's Best of Staffing® Award is the only award in the U.S. and Canada that recognizes staffing agencies that have proven superior service quality based entirely on ratings provided by their clients and placed talent. Award winners are showcased by city and area of expertise on ClearlyRated.com – an online business directory that helps buyers of professional services find service leaders and vet prospective firms with the help of validated ratings and testimonials.
---
« Return to press room