PrideStaff Financial Wins Back-To-Back Best Of Staffing® Client And Talent Diamond Awards From Inavero
March 2, 2016
---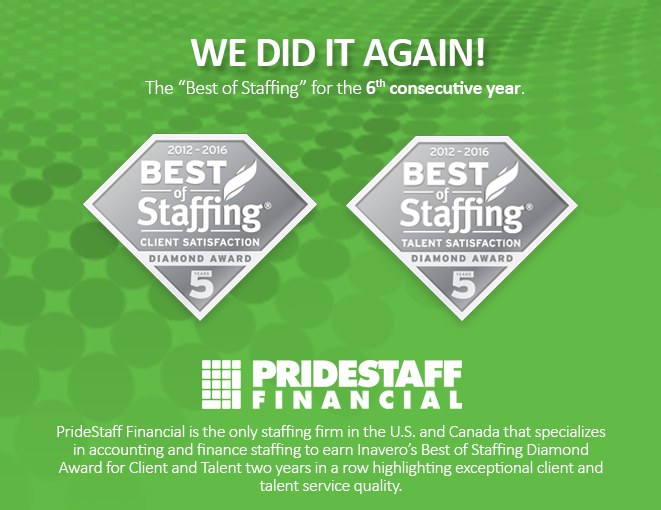 Diamond Award winners have won the Best of Staffing Award for at least 5 years in a row, consistently earning industry-leading satisfaction scores.


PrideStaff Financial, part of the PrideStaff group of companies, announced they were named one of Inavero's 2016 Best of Staffing® Client and Talent Diamond Award Winners, after winning the Best of Staffing Client and Talent Awards at least five years in a row for providing superior service to their clients and job seekers. PrideStaff Financial is the only staffing firm specializing in accounting and financial staffing in the U.S. and Canada to win these awards two years in a row.
Presented in partnership with CareerBuilder, Inavero's Best of Staffing awards recognize industry leaders in service quality based completely on the ratings given to them by their clients and the permanent and temporary employees they've helped find jobs. On average, clients of winning agencies are nearly three times more likely to be completely satisfied and talent are 45% more likely to be satisfied with the services provided, compared to those working with non-winning agencies.
Focused on helping to connect people with the right job openings at U.S. companies, PrideStaff Financial received satisfaction scores of 9 or 10 out of 10 from 80.7 percent of their clients and 77.7 percent of their talent, significantly higher than the industry's average. Fewer than 2 percent of all staffing agencies in U.S. and Canada earning the Best of Staffing Award, and just 22% of the 2016 Best of Staffing winners earned the Diamond Award distinction. The winners of this award truly stand out for exceeding client expectations.
"We are proud and honored to be recognized for our efforts in this way," stated Ryan Williams, Vice President of PrideStaff Financial. "Providing hands-on, personal attention to our clients, candidates and field associates allows us to create meaningful employment connections that last. Earning the Diamond Award distinction demonstrates our ability to help clients secure the talent they need, while providing candidates and employees with outstanding opportunities in accounting and finance."
"Leaders of growing companies are more committed than ever to staying flexible in this stable yet volatile market, making staffing firms the most viable employment partnership," said Inavero's CEO Eric Gregg. "Finding the best staffing partner with a proven commitment to service excellence can be really tough. We are very proud of the 2016 award winners."
About PrideStaff Financial
A division of PrideStaff, PrideStaff Financial specializes in accounting and financial staffing. The parent company was founded in the 1970s as 100 percent company-owned units and began staffing franchising in 1995. They operate over 74 offices in North America to serve over 5,000 clients. With over 40 years in the staffing business, headquartered in Fresno, CA, all PrideStaff brands offer the resources and expertise of a national firm with the spirit, dedication and personal service of smaller, entrepreneurial firms. For more information on PrideStaff, PrideStaff Financial services or for franchise information, visit www.pridestaff.com or www.pridestafffinancial.com.
PrideStaff and PrideStaff Financial's shared Mission: Consistently provide client experiences focused on what they value most.
About Inavero
Inavero administers more staffing agency client and talent satisfaction surveys than any other firm in the world. Inavero's team reports on over 1.2 million satisfaction surveys from staffing agency clients and talent each year, and the company serves as the American Staffing Association's exclusive service quality partner.
About Inavero's Best of Staffing
Inavero's Best of Staffing® Award is the only award in the U.S. and Canada that recognizes staffing agencies that have proven superior service quality based completely on the ratings given to them by their clients and job candidates. Award winners are showcased by city and area of expertise on BestofStaffing.com – an online resource for hiring professionals and job seekers to find the best staffing agencies to call when they are in need.
---
« Return to press room