PrideStaff Fort Lauderdale Office Launches New Accounting and Financial Staffing Division
July 5, 2023
---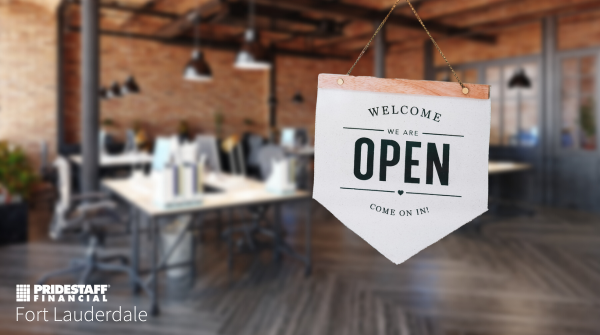 PrideStaff, a nationally franchised staffing organization, is pleased to announce that their Fort Lauderdale office has added a PrideStaff Financial Division to their existing operations.
Building on the immense success of PrideStaff Fort Lauderdale, PrideStaff Financial Fort Lauderdale will specialize in accounting and financial staffing, offering expanded services for their local area companies seeking accounting, bookkeeping, and finance specialists. The Fort Lauderdale PrideStaff Financial team, headed by Bilingual Senior Staffing Consultant Diana Hidalgo, looks forward to providing specialized solutions to even more employers and professionals in the financial and executive search arena.
Robert and Carmen Calamia, Owners/Strategic-Partners of PrideStaff Financial Fort Lauderdale, are excited by the growing accounting and finance opportunities in South Florida. "Demand from our current clients has been incredible," stated Carmen Calamia. "We're thrilled to add a PrideStaff Financial division to our local brand to service the growing financial sector. PrideStaff Financial Fort Lauderdale will operate from our current location, which serves Fort Lauderdale and the surrounding area of Broward County.
"Truly caring about our partners' careers and businesses is the hallmark of our success," continued Calamia. "Finding qualified financial professionals in today's market is extremely challenging, but we create mutually rewarding connections between Fort Lauderdale job seekers and employers with our experience, existing network, and desire to understand our clients' needs. We're proud of the relationships we've built by being a true partner—not just a vendor—and we look forward to adding a new layer of service with our PrideStaff Financial division."
"For job seekers searching in a competitive finance and accounting labor market, partnering with a qualified agency can be the difference between finding a job—and finding rewarding work," stated Ashli Fernandez, VP of PrideStaff Financial. "Similarly, joining forces with a staffing firm allows our clients to fill roles quickly and cost-effectively with the right professional. Carmen, Robert, and the Fort Lauderdale team, will leverage their extensive professional networks to make swift and advantageous matches between talented job seekers and the employers who need them most."
As a national staffing services organization, PrideStaff Financial provides outstanding service and results by removing the guesswork from staffing. PrideStaff Financial was developed to meet the specific staffing needs and challenges associated with accounting and finance, from accounts payable and receivable staffing to executive recruiting.
About PrideStaff Financial
A division of PrideStaff, PrideStaff Financial specializes in accounting and financial staffing. The parent company was founded in the 1970s as 100% company-owned units and began staffing franchising in 1995. They operate over 85 offices in North America to serve more than 5,000 clients. With 40 plus years in the staffing business, headquartered in Fresno, CA, all PrideStaff brands offer the resources and expertise of a national firm with the spirit, dedication and personal service of smaller, entrepreneurial firms. For more information on PrideStaff Financial services, visit our website.
PrideStaff and PrideStaff Financial's shared Mission: Consistently provide client experiences focused on what they value most.
---
« Return to press room