PrideStaff West Palm Beach Staffing and Employment Agency Under New Ownership
July 3, 2023
---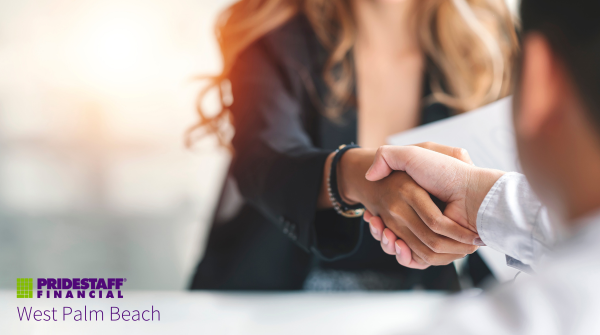 PrideStaff Financial, a nationally franchised staffing organization, is pleased to announce that their West Palm Beach staffing and employment agency is under new ownership and management. The office will continue to offer a full range of staffing and employment services in a variety of professional, clerical/admin, and light industrial disciplines for employers and job seekers throughout the Palm Beach County area, as well as offer professional recruiting for accounting and finance roles through its PrideStaff Financial division.
Marina Grasso and Jeff Riggs, the new Owners/Strategic-Partners of PrideStaff West Palm Beach, are grateful for the opportunity to connect hard-working job seekers with rewarding opportunities in Palm Beach County. "We're excited to follow in the footsteps of Sherie Duttenhofer, who's done an incredible job of building an award-winning staffing agency," said Marina Grasso. "As staffing industry veterans, Jeff and I have been through ups and downs in the job market, and we're confident our team can create mutually rewarding connections between job seekers and employers during challenging times."
"Our office has over 75 years of combined staffing experience, and we're excited to leverage PrideStaff Financial's proven business model and stellar industry reputation to build on that solid foundation of staffing expertise," continued Grasso. "By focusing on Our Mission to 'Consistently provide client experiences focused on what they value most,' we plan to expand our reach, discover new ways to drive business—and positively impact the lives of our Palm Beach County clients, candidates, staff, and community."
As a national staffing services organization, PrideStaff Financial provides outstanding service and results by removing the guesswork from staffing. The West Palm Beach office uses this approach to recruit superior talent for employers in their market.
About PrideStaff Financial
A division of PrideStaff, PrideStaff Financial specializes in accounting and financial staffing. The parent company was founded in the 1970s as 100% company-owned units and began staffing franchising in 1995. They operate over 80 offices in North America to serve more than 5,000 clients. With 40 plus years in the staffing business, headquartered in Fresno, CA, all PrideStaff brands offer the resources and expertise of a national firm with the spirit, dedication and personal service of smaller, entrepreneurial firms. For more information on PrideStaff Financial services, visit our website.
PrideStaff and PrideStaff Financial's shared Mission: Consistently provide client experiences focused on what they value most.
---
« Return to press room