4 Signs a Career in Bookkeeping Is Right for You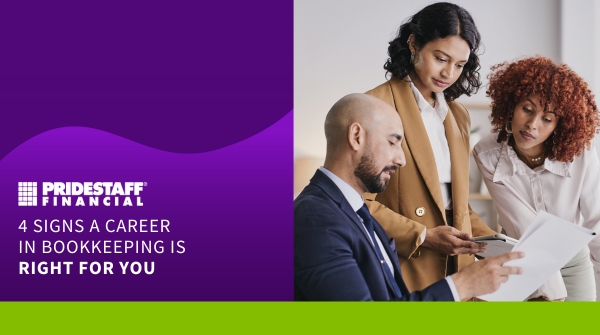 Are you curious about the field of bookkeeping? Do you have questions about what exactly a bookkeeper does in the accounting and finance industry? Let's break down the career and qualities that are necessary so you can put your best foot forward in this rewarding career.
What is bookkeeping?
In the world of finance, an accountant can or may be a bookkeeper but not the reverse. In order for a bookkeeper to be considered an accountant, you must obtain the proper schooling and/or certifications. However, bookkeeping is a transactional and administrative role that handles the important day-to-day tasks of recording financial transactions, including purchases, receipts, sales, and payments. A bookkeeper's job is to maintain complete records of all money that has come into and gone out of the business. Bookkeepers record daily transactions in a consistent, easy-to-read way. Their records enable accountants to do their jobs.
Some college experience is desired but not required:
Bookkeepers are not required to hold college degrees. However, many employers prefer hiring professionals who have completed at least some college. So, some bookkeepers complete associate's or bachelor's degrees in accounting or business.
Optional certifications:
Some bookkeepers pursue certified bookkeeper certifications offered by national bookkeeping associations. The National Association of Certified Public Bookkeepers' (NACPB) offers a certified bookkeeping professional (CPB) designation, and the American Institute of Professional Bookkeeping (AIPB) offers a certified bookkeeper (CB) license. Both certifications have similar requirements. Candidates must take a four-part multiple-choice test and agree to follow a code of conduct. However, bookkeepers need more work experience for the CB certification than they do for CPB licensing. The AIPB requires candidates to have two years (or 3,000 hours) of work experience before they seek certification. The NACPB requires only one year (2,000 hours).
Hard skills you must have:
There are several hard skills you must have to become a bookkeeper: strength in math, computer literacy, data entry, finance and business acumen.
Soft skills you must have:
There are also very important soft skills employers look for, including attention to detail, organization, communication skills, willingness to collaborate and work as part of a team, and critical thinking.
If you read this and your interest is peaked, or you answer yes to any of the qualifications—then a bookkeeping career might be right for you!
Find your next opportunity in bookkeeping with help from our team!
PrideStaff Financial has consistently won awards for exceptional job seeker satisfaction. Our highly skilled staffing consultants can help you navigate the best path for your career. Contact us today to learn more.