Advance Your Accounting Career with these 3 Problem-Solving Skills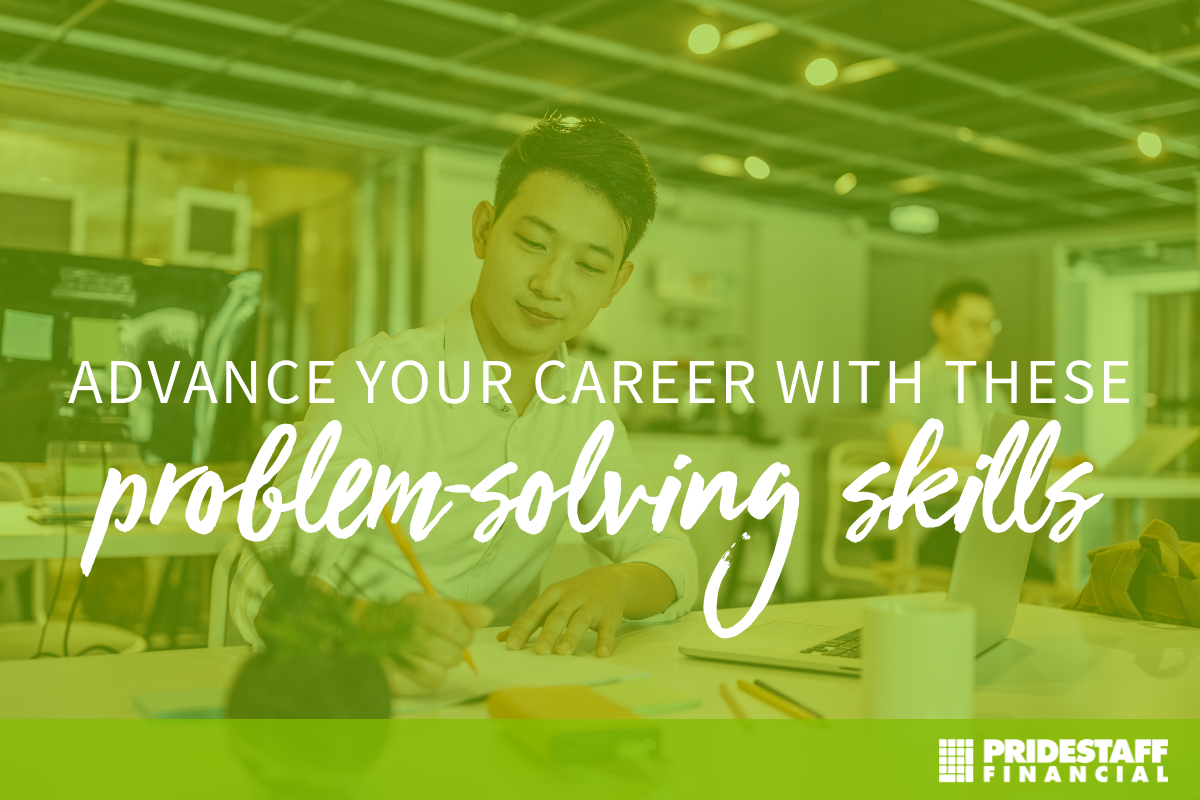 How do you stay relevant in a very competitive marketplace? In an ever-changing world, AI is impacting the accounting landscape, and virtual offices are changing how we interact professionally. PrideStaff Financial offers three skills to advance your accounting career.
1. Accept that automation is changing the way you do business:
Experienced accounting professionals who resist technology will now be competing with CPAs who better grasp the essential tools that impact the processes they audit and perform. To stay relevant and advance your career:
Look to develop bi-directional mentor relationships with those within (and outside) your company who are more tech-savvy.
Impart your wisdom on them, and ask them to mentor you on emerging technologies or tools currently at your disposal. You can even establish this kind of relationship with clients.
Find communities of future-forward professionals, like Digital CPA from CPA.com, a subsidiary of the AICPA, to stay aware of the discussions taking place.
2. Take the time to invest in your network:
Networking skills are invaluable when it comes to advancing any career. A wide network of contacts can be a great help to your career. You can turn to them for advice, ideas, or guidance on business-related issues. Of course, strengthening your network will require you to devote some time and effort to your contacts. Perhaps the most significant advantage of a vast network is that it puts you in a better position to find your next job or stepping stone in your career.
3. Learn the "softer" side of the job:
CPAs are experts in the fields of accounting, taxation, auditing, and financial planning. They provide advice to their clients and the companies that they for on these issues. However, technical competence is not enough to get you ahead in your career. You also need soft skills. What exactly are soft skills? They are interpersonal skills that allow you to function effectively as a team member or as a group leader. Soft skills include communication, empathy, decision making, time management, and conflict resolution. An article in the Harvard Business Review says that some of the most important soft skills that could help you to get ahead in your career are: motivating others, inspiring others, displaying integrity and honesty, communicates often and professionally, champions change, and innovates. Honing your soft skills is a great way to advance your accounting career.
Advance Your Career with PrideStaff Financial
PrideStaff Financial has consistently won awards for exceptional candidate-job satisfaction. Our highly skilled staffing consultants can help find you the right job or guide you to the perfect career. Contact us today to learn more.