Benefits of Working in Corporate Accounting vs. an Accounting Firm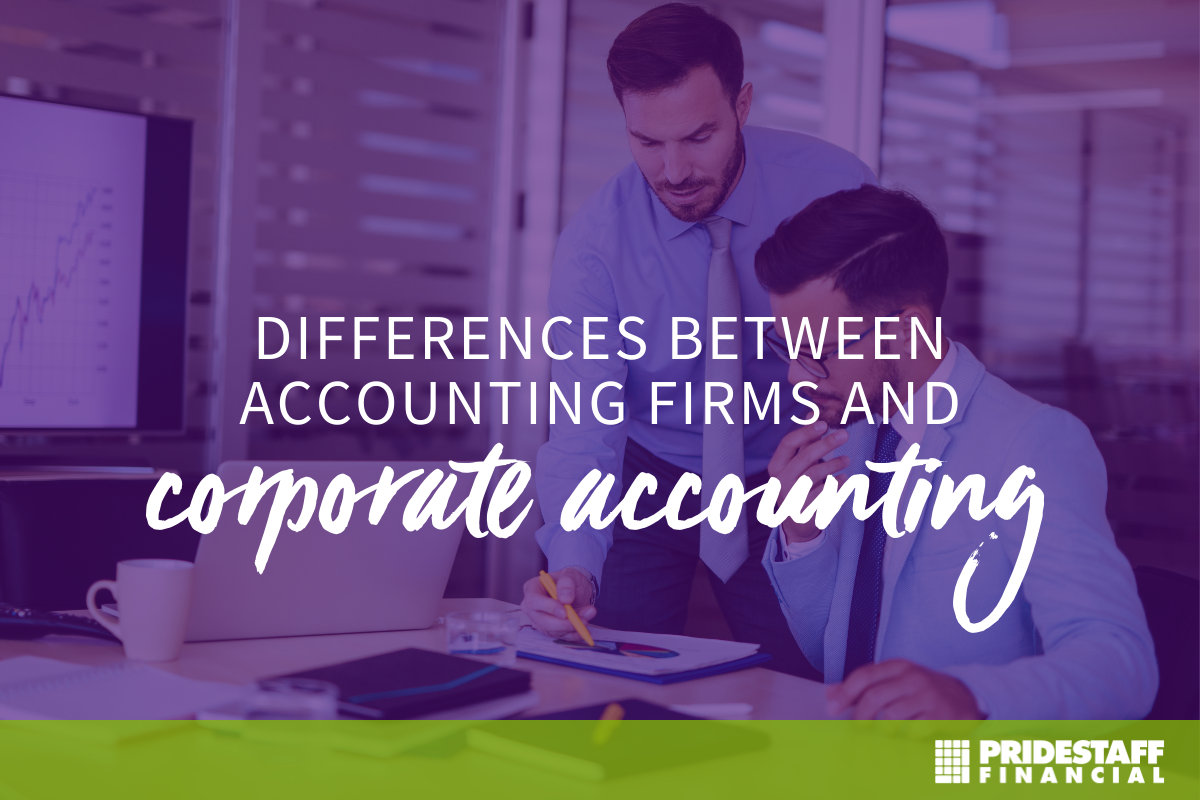 Whether you're starting out in your accounting career, looking to transition between fields, or just plain curious, it's important to define corporate accounting and know how it differs from a career in public accounting or a large accounting firm.
What is corporate accounting?
Accountants who work in the corporate or private sphere are employed by non-accounting companies rather than accounting firms. They can work in small local offices, national corporations, or international companies. Typically, corporate accountants will work in a team or department under the direction of the CFO (Chief Financial Officer). Rather than helping a wide range of clients, corporate accountants work for a single company, developing an impressive depth of knowledge of their industry.
The difference between the two:
The biggest difference between corporate and public accounting is who you work for (i.e. a single corporation or the general public). Public accountants work in firms selling accounting services, while corporate CPAs work at companies selling something other than accounting services.
The benefits of corporate accounting:
 Corporate accountants may start out with higher pay, though the opportunities for promotion can be leaner. In an accounting firm, on the other hand, progression can be quick and there's always the potential to become a manager or partner. Typically, you'll work a 9 to 5, and some of your responsibilities will include bookkeeping, report generation, budget planning, financial analysis, payroll processing, and business forecasting.
Working in public accounting:
Many recent grads choose to start with an accounting firm to build a foundation for later work in the corporate sphere. Public accounting has the advantage of providing a breadth of knowledge, however, work-life balance can be a beast during tax season. Working for an accounting firm will see more fluctuation in hours. Fortunately, many accounting firms are lessening required hours in the summer to offset the strain of the busy season (and be more competitive in hiring). This is a positive, especially if this is important to you.
Why consider corporate accounting:
In corporate accounting, you are making the company—helping build its future. In public accounting, you only get a glimpse into a company but play no active role in where it's headed. In corporate, hours are more stable, and flexible, you start out at      higher pay, and while growth is slower, there are more options of where to go and what you learn. For example, a typical day could consist of checking for fraud, making entries, and completing bank reconciliations.
No matter what direction you go in, make sure it's the right fit for you and matches up with your long-term goals.
Looking for a great corporate accounting job?
PrideStaff Financial has consistently won awards for exceptional client satisfaction. Our highly skilled staffing consultants can help you navigate which accounting direction is right for you. Contact us today to learn more.