Experiencing a Talent Shortage? Not With This Hiring Strategy!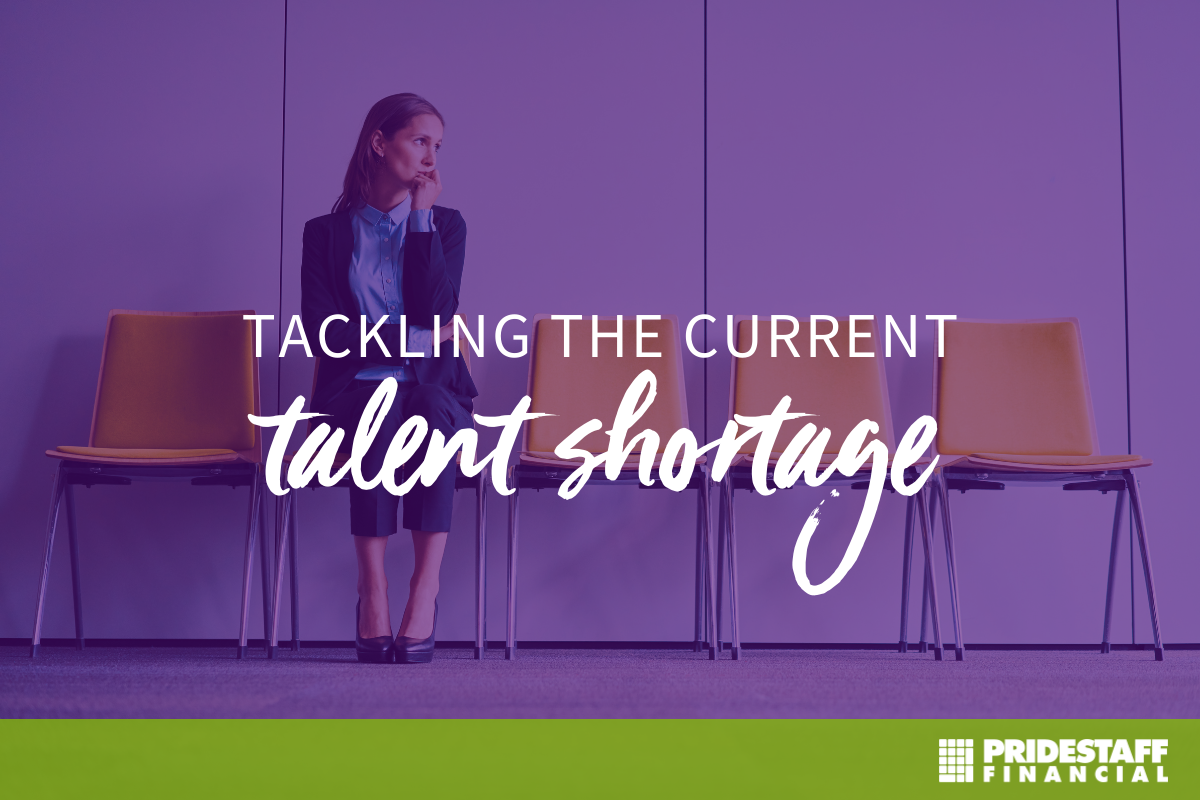 Hiring smarter is essential, especially while dealing with the talent shortage. PrideStaff Financial can help you tackle your hiring strategy in today's market with these proven strategies:
Look inhouse:
The number one thing you can do during a talent shortage is to look to hire in-house. Many hiring managers focus on getting more out of existing employees to counteract the effects of their talent shortages. 21% of managers say they have provided staff with opportunities for training or the chance to take on new responsibilities. 38% say implementing flexible working arrangements has benefited obtaining interest for in-house hiring and promotions. This is a useful strategy for retaining staff and preventing the emergence of further skill shortages. Most employees will appreciate development opportunities, which has the added effect of increasing staff loyalty to a company.
A secret trick–transfers:
Another means of dealing with talent shortages, which are often overlooked, is to transfer employees from another part of the company, another branch, or even internationally. This provides easy access to a pool of candidates with a good understanding of the company, values, and processes. It also creates multiple benefits for the employees concerned. In a recent candidate survey, most professionals report that their main reasons for moving abroad would be for better career opportunities and to gain international exposure. Consider how you can get the most from state-wide transfers or international networks, especially for hard-to-fill roles. The cost of visas and relocation will be less than that of failing to find the right person for the job.
Adjust your criteria: 
Holding out for best-match candidates can mean that vacancies remain open for weeks or even months. This means that existing employees are working harder to provide the necessary cover, possibly damaging morale, and increasing staff attrition rates. Adjusting the hiring criteria and hiring less qualified candidates can often deliver a wealth of benefits, some of which include boosting the diversity of the workforce and introducing fresh perspectives to problem-solving. It also helps drive innovation as different skill sets and approaches are brought together under one roof. Recruiting from a mix of talent pools is also a suitable method for managing salary inflation. In many cases, candidates looking for the chance to step up are more likely to prioritize a fresh challenge over a large pay rise.
Let PrideStaff Financial Handle Your Hiring
PrideStaff Financial has consistently won awards for exceptional client satisfaction. Our highly skilled staffing consultants can help you find the right candidates to meet your business needs. Contact us today to learn more.