How to Address an Unrealistic Workload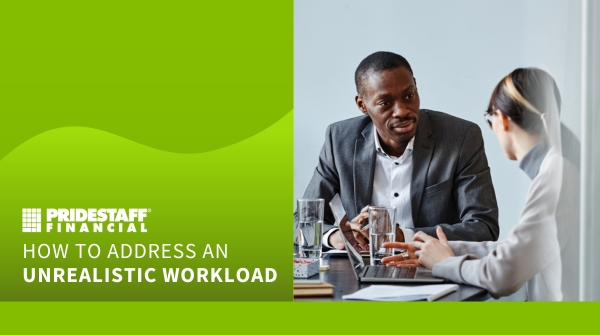 We are all pulling more than our own weight right now during very uncertain economic times. But being overworked and overloaded can take a toll. There are various strategies you can use to handle unrealistic expectations at work and cultivate success as a professional.
Setting boundaries:
If you feel like you're facing unrealistic work expectations and workloads, try to practice setting boundaries and enforcing them with consistency. For instance, if your supervisor asks you to take on an additional project with a large scope that you can't complete within a reasonable timeframe, communicate this boundary, and help your supervisor come up with an alternative plan. Be open in your communication and let them know that while you'd normally happily take this on, right now you have many other projects that need your attention, and you are focused on doing the best you can with your current workload. This practice can help your supervisor better understand what your limits are so you can succeed in your role.
It's ok to ask for help:
Collaboration can help you overcome unrealistic workload expectations and is looked upon fondly by supervisors—if it's done with balance and not as a way to just offload your current responsibilities. If you're facing an upcoming deadline or can't handle all the tasks associated with a project's scope independently, ask your coworkers for help in reaching your goals. Having assistance can help you meet expectations while preserving your energy and decreasing your stress levels. It also creates bonding experiences with coworkers.
Sticky notes and workflow charts can be your best friend:
If your supervisor establishes an unrealistic timeline for a project with a deadline you can't meet, create your own workflow timeline that's more reasonable. It will help you balance other projects and allow you to shift from one project to the next during each workday. Doing this also allows you to show your timeline to your supervisor so they can visualize what expectations are realistic. This may help your supervisor gain perspective and make shifts in the future to establish workable timelines.
Make time for yourself:
In order to succeed in your role, maintaining a healthy work-life balance is key. One part of a healthy work-life balance is taking time for yourself so you can decompress and relax. Therefore, make sure you schedule time for self-care or take vacations and set clear boundaries around your ability to work during these periods.
Looking for a new accounting or finance job?
PrideStaff Financial has consistently won awards for exceptional candidate job satisfaction. Our highly skilled staffing consultants can help you learn tools and techniques to maintain balance in your job. Contact us today to learn more.