Do You Need to be More Flexible with Your Staff?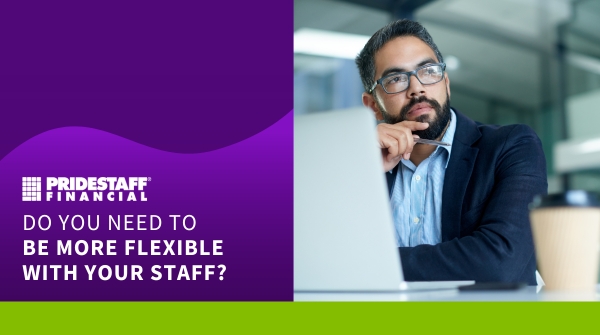 Today's workforce craves more flexibility. Savvy leaders understand that talent is the single most important factor in a company's success. You can have all the basics down, but without the right talent, you'll just be running in place. And to attract and retain that talent, you must work with them to customize their jobs. This makes people feel valued, which leads to peak performance. The key is to be flexible and collaborative. Here are some tips from PrideStaff Financial.
Why flexibility is important:
Studies show that organizations that offer workplace flexibility have less absenteeism and turnover, and higher levels of engagement and productivity. Again, it comes down to control. We all need to feel in control of our lives, and most people in today's workforce have prioritized work/life balance. So, by working with talent on flexibility, you grant them real control. They feel trusted and valued, and their investment in the work, and in your organization, grows.
It shows you are progressive:
Many organizations today view workplace flexibility as a strategic move, not an employee benefit. The bottom line is that progressive companies have an easier time attracting and retaining top talent. People with a lot to offer want to work at companies that treat them like adults and have empathetic, energetic, progressive cultures. Offering options like telecommuting can save costs on supplies, real estate, and utilities for the organization. It's a win/win.
Research doesn't lie:
Today's working climate has changed drastically; it's just the reality. And because of the pandemic, it became very clear that most individuals can work extremely effectively when given remote or telecommute options. Statistics from the Department of Labor show that 78% of employees feel their productivity increases when work arrangements are flexible. And 77% consider flexible work arrangements a major consideration while applying for and evaluating job opportunities.
What you get out of it:
Employers that are more open to flexible work environments see less turnover which saves you money in the long run. Being more flexible also increases productivity within the organization which makes you happy, and the clients you serve. The biggest benefit to your organization is that it enhances the company image as a family-friendly place to work with good workplace culture and mindset. This attracts more job seekers to choose your organization over others.
Looking to add more workforce flexibility?
PrideStaff Financial has consistently won awards for exceptional client satisfaction. Our highly skilled staffing consultants can help you stay on top of the most important work trends. Contact us today to learn more.