How To Emotionally Recover From a Layoff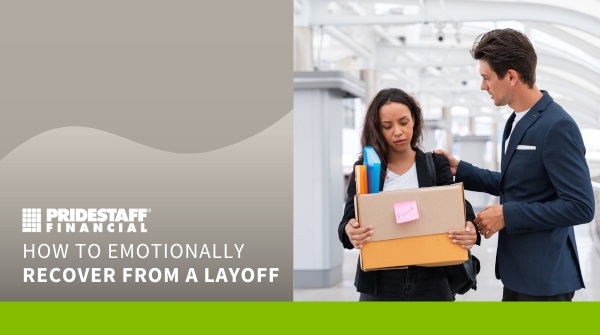 Getting laid off isn't easy! There have been recent layoff trends & some common industries that have been impacted. So, how do you emotionally recover from your layoff and what next steps can you take?
Layoff trends and industries impacted:
The tech industry has been hit the hardest with layoffs, including Amazon, Twitter, Salesforce, Spotify, 3M, and many more. However, other industries are feeling the crunch of a looming recession. The financial sector, including massive layoffs at Deloitte, the banking sector, and bigger chain retail, have all been increasing layoffs going into 2023. With that said, according to Market Watch, the finance and insurance sectors are among the safest with the lowest layoffs thus far.
Steps to recover—process what you are feeling:
If you've recently been affected by a layoff, make time for introspection. If journaling isn't your thing, try other exercises that allow you to zone out and reflect: recording voice notes, doodling, or even gardening. The goal is to spend some time thinking about what you're feeling, what stories you're telling yourself about your layoff, and how you want those stories to change (including the fact that layoffs happen for many reasons and it's not your fault).
Consider meeting with a job coach or recruiter:
Sometimes, processing our emotions shouldn't be done alone. Meeting with a job coach or recruiter who has navigated and experienced working with laid-off employees can help guide you through what you are feeling. They can also help you build a road map for the next steps, which is crucial after being laid off.
Build a strong support system:
Having a strong network of people that you can emotionally depend on is critical at any stage of life, but especially crucial in your early years. This support system can help you in so many ways — some may give you a shoulder to cry on, while others give you sage advice to move forward in life, or even become potential employers. No matter what support you seek, know that you don't have to go through this journey alone.
Assess your skills:
One of the biggest mistakes most people make while they're employed is not documenting the projects they've taken on and contributed to, the skills they've acquired, and the knowledge they've gained. Consequently, as they try to reflect on those things post-job, they forget many of the contributions they've made. For this reason, it's important to spend time reflecting on everything you've done in previous positions. After assessing your skills, you'll want to update your resume and LinkedIn accordingly. Be proactive about your next steps and it will help you accept what has happened and carve a path forward.
Be honest about the job:
During layoffs, many spiral downward and wonder what they did wrong. Oftentimes, it's nothing you've done, however, are you being honest with what the job brought you to begin with? Many realize after a layoff that they hated the job anyway or weren't as happy as they were when they started. It's important to be honest with how you felt about the work you did and find ways to define what you care about and what you are passionate about. Find some new hobbies and interests that help elevate your skills. Volunteer your time doing work you love to hone in on what makes you happy. Make a list of things you didn't like about your job so that you know what you want to look for in your next job or career. If you've been laid off, it's important to reflect on and define your needs.
PrideStaff Financial has consistently won awards for exceptional client and candidate satisfaction. Our highly skilled staffing consultants can compassionately help you navigate a layoff and move forward. Contact us today to learn more.