5 Ways to Incentivize Your Team This Summer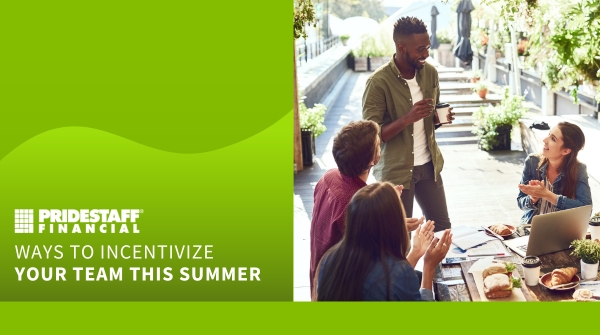 Productivity tends to dip during the summer months. If you're trying to get your productivity rates back up to where they used to be, consider offering your team some fun incentives.
Corporate-driven sports leagues:
With the pandemic finally in our rearview mirror, many are trying to capitalize on being outdoors —being in public again. The challenge with this is that many offices are starting to require workers to be back in a traditional 9-5 setting. You may notice a downward trend in productivity, especially as the weather gets nicer. Some offices are adopting the idea of sports leagues during summer and fall months to help get staff outdoors but also give them the incentive to keep doing a great job. Summer beach volleyball, co-ed softball, group cycling, golfing, and park yoga are all activities that corporations are giving a go, with some success.
Let go of the must-be-in-the-office mentality:
During the summer months at least, adopt an attitude of flexibility. If you want to keep your staff motivated and productive, give them some slack. Most have already proven their worth and have shown that they can get the job done from just about anywhere. So, allow staff to work remotely up to three days a week during the summer, if permittable, do half-day Fridays during June and July. For example, in the UK, the entire country has half-day work days on Fridays all year long and recent surveys have shown that it has increased positive attitudes and productivity by up to 45% since the pandemic hit.
Have some fun:
Teambuilding is essential all year round, but in the summer, you have more options than your standard indoor activities. Dedicate a lunch break to organizing a game in a local park. Host an outdoor happy hour. Host less important meetings while taking a stroll with the attendees. Socializing comes more naturally when it's nice out, so take advantage of the opportunity to give employees a break and build relationships within the company.
Get your hands dirty:
Studies show that those who work with their hands and spend time in nature have a better attitude about life and an overall feeling of peace and balance. If your business or location allows for it, set up a small garden. Whether it's food or flowers, in the ground, or in pots, it's a great way for employees to feel like they're taking part in typical outdoor activities even while at work. On top of that, your employees can share the harvest and take home fresh veggies or flowers.
Offer other rewards:
Sometimes the lure of a great summer day is too much. Make it worth employees' time by offering bonuses, gift cards, days off in the fall, or some other type of reward so that sitting inside while the sun and fun beckon outside is a little less painful.
PrideStaff Financial has consistently won awards for exceptional client satisfaction. Our highly skilled staffing consultants will support your business needs and help you find ways to increase productivity. Contact us today to learn more.