How to Optimize Your Summer Experience When Working Long Hours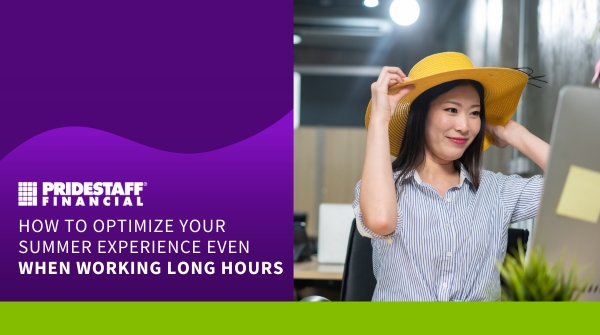 It can be hard to enjoy summer when work continues to be busy with no slowdown. If you find yourself in that position, consider these tips to help you make the most of it:
Utilize remote work options:
Since many are still able to work from home or remotely, take advantage of that and book some time working while sitting on a beach or at an Airbnb. Being able to tie in a nice, relaxing family vacation while also tying in some work allows you to enjoy the sunshine and family time without the guilt of putting in hours at work.
Find Wi-Fi when you travel: 
In most cities, you'll find that cafés, hotels, and restaurant terraces have pleasant views that will make work a little more enjoyable. Hotels usually have a guest-only policy for their pool but will let the laptop-laden hang out once they order a drink (which can be a mocktail or a nice cool non-alcoholic beverage). Perhaps you live nowhere near a city but have a picturesque town nearby where baristas will happily serve you six consecutive cups of coffee while you work away for hours. A refreshing mocktail or glass of iced tea overlooking a beautiful spot beats spending summertime locked away in your home office, knocking back the cans of Red Bull.
Tie in a conference with a great destination:
 Signing up for a work conference will help you network while treating yourself to a vacation of sorts. You can make both your boss happy and yourself by learning for work while enjoying the summer scenery.
Optimize your breaks: 
Utilize those breaks you take throughout the day to stand up and move around. Go outside and breathe some fresh summer air into your lungs. Short, scheduled breaks help eliminate burn-out risk. Bursts of sunshine boost your vitamin D production and can offset potential health issues. Remember to stay within reasonable time limits. Cycling is a great way to take a break and be back at your workstation in less than 30 minutes. Or, if your office has nice walking trails, take a lunchtime hike or walk with a group of colleagues.
Make the most of your summer with help from our team!
PrideStaff Financial has consistently won awards for exceptional client satisfaction. Our highly skilled staffing consultants can help you navigate workplace challenges. Contact us today to learn more.