How to Keep Burnout at Bay in the Midst of Tax Season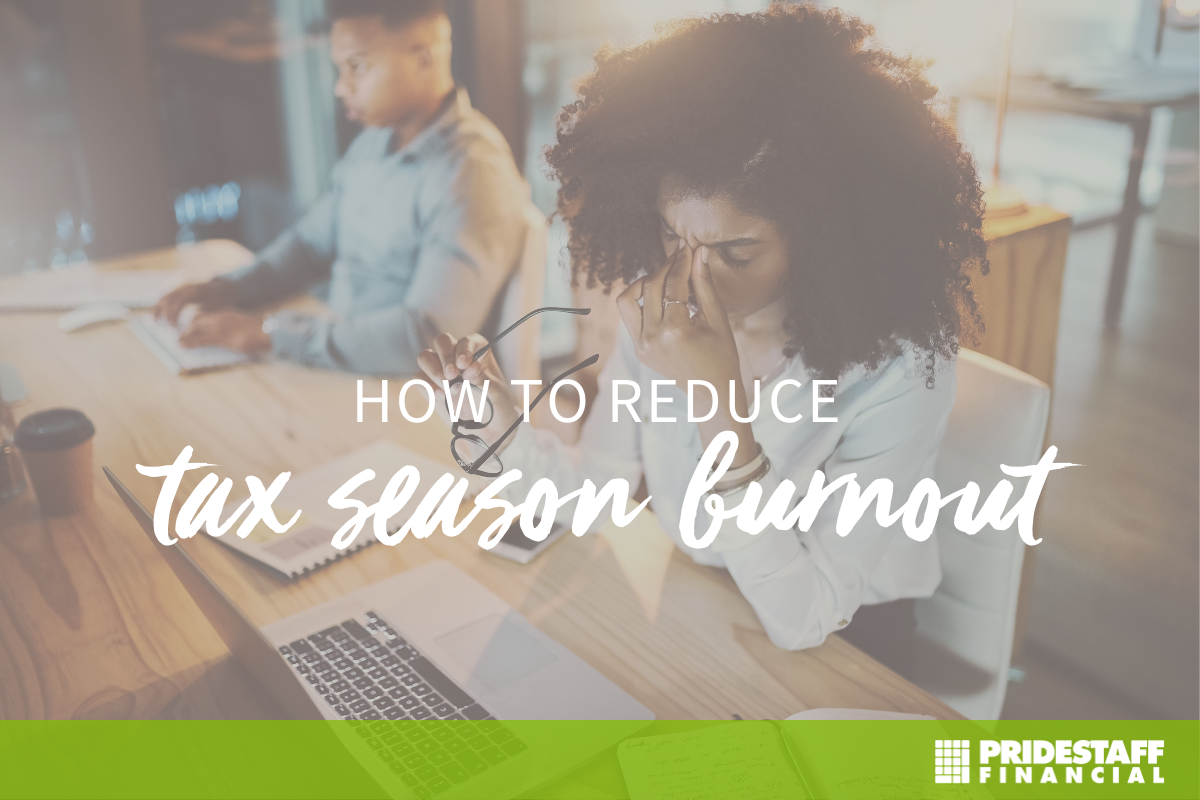 It's hard to believe, but tax season is upon us once again, and there is plenty to do. Burnout could already be happening, but there's a long way to go before April 15th. It's not uncommon to experience higher stress levels and fatigue, so here are a few tips to keep burnout at bay.
Limit distractions:
Interruptions during tax season can be especially frustrating and a driver for burnout. It's expected that this time of year will create a higher volume of client calls and emails. Try delegating activities that pull you from your primary work or set aside a specific block of time each day to handle those distractions. This way, distractions are limited, and they don't knock you off track throughout the day. Turn your phone off, don't open emails, and put a "Do Not Disturb" sign on your door or cubicle—whatever it takes to lower interruptions and become more productive in the limited hours you have to work.
Everyone needs breaks:
Just because it's tax season doesn't mean you run yourself into the ground. Take a day off and completely disconnect. While taking a full day this time of year can seem far-fetched, studies show that a personal day off allows you to recharge so much so that you can make up for it in the days that follow. If taking a day off isn't an option, try limiting your hours on certain days. Too much overtime isn't good for anyone, no matter what time of year it is or how important the work is. Make sure you leave the office at an early enough hour to unwind, eat dinner with your family, and get some downtime before bed.
Nutrition is key—yes, we said it:
Most of us are aware that eating healthy foods can impact energy levels. Likewise, overeating sugar, fast food, or less than ideal choices can lead to feeling sluggish and tired. It's important, for example, to keep raw vegetables and fruits on hand as opposed to boxes of cookies or candies. You might pre-pack a healthy lunch from home, so you don't feel the need to swing by your local sub shop when you become hungry in the afternoon. For many, dietary choices tend to get more chaotic the busier they get. This is why it's essential for tax professionals to make it a point to eat well even while swamped with work. The better your nutrition, the more clear-headed you'll remain, which makes it easier to get through the work. Letting your diet slip during your peak time of year is a recipe for burnout and health issues.
Utilize new tech:
Whether it's tax preparation, client collaboration, or tax planning software, tools exist to take the stress off by automating certain processes. If you have outdated technology, this is likely a cause of stress for you, and an upgrade would be a big relief. Busy season is exactly the time of year you need the best software the most. Technology can potentially help you work faster with fewer mistakes—thus decreasing stress. Do some research on the best software out there for tax and accounting firms, pitch your boss, or ask for a department upgrade—or just a personal one. You'd be surprised what an organization is willing to do to support its employees.
Reach Your Career Goals with PrideStaff Financial
PrideStaff Financial has consistently won awards for exceptional candidate-job satisfaction. Our highly skilled staffing consultants can help find you the right job and training for your career goals. Contact us today to learn more.