How to Resign Without Burning Bridges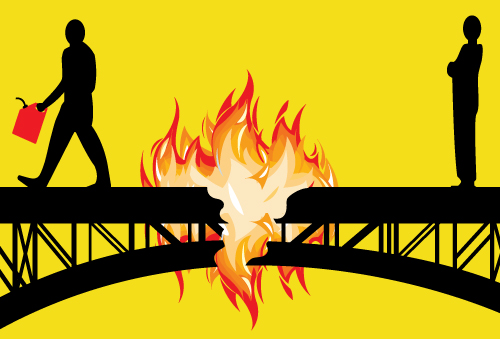 Ninety-one percent of millennials expect to stay in a job for less than three years, according to a recent Forbes article. And, the average worker stays with a company roughly 4.4 years according to the Bureau of Labor and Statistics. While there are many reasons for leaving a job, two things are certain—you can leave a job the right way or the wrong way. PrideStaff Financial has some tips on how to leave a job without burning bridges.
Be considerate of your boss.
Once you've decided to resign, the first person you should tell is your manager. The last thing you want is your boss hearing it "through the grapevine." Even in circumstances where you may be on less-than-friendly terms with your boss, how you handle your departure sets you up for better references down the line.
Don't be a Chatty Cathy.
Whatever your reasons for leaving, always play the politician! Don't tell distant colleagues one thing and your closest teammates another. Don't be overly chatty about why you are leaving. It not only reflects poorly on you, it leaves you vulnerable to future employers who may have a good-standing relationship with your current boss. Be consistent—tell one reason, one way, stick to that reason, and don't talk it to death.
Offer to help find the next you.
You may not be easily replaceable, but that doesn't mean you shouldn't offer to help your boss find another candidate who has similar skill sets to your own. Hiring for a position takes time, money, resources and can be very taxing on an employer. If you have been relied upon heavily in your current role, then it would stand to reason you may be hard to replace. Put out feelers to your network. See if any peers are looking for work, and if so, conduct some casual vetting ahead of your departure. Offering up a few solid resumes to your boss not only earns you bonus points, it takes some pressure off your boss in finding a good fit for the company.
Be grateful.
It should go without saying that if, for the most part, you were treated well at a company, you should be grateful. Many good managers give a lot to their employees, passing down whatever knowledge they can and developing deep connections with their staff. For some it is harder to say goodbye than they may lead you to believe. You have probably learned a great deal with your current company, taken training offered freely, maybe even gotten a higher education thanks to your employer (as some companies pay for their staff to go back to school). Write some genuine thank-you cards to managers before your departure. Show them how grateful you are for all they have taught you. And if what you are taking away from the job is very little, find small things to be grateful for and share them. It will be recognized more than you think.
"There's a trick to the Graceful Exit. It begins with the vision to recognize when a job, a life stage, a relationship is over – and to let go. It means leaving what's over without denying its value." Ellen Godman.
PrideStaff Financial is one of the nation's leading recruiting firms. Our trusted and experienced consultants can help you move onto the next stage of your career. Contact our financial consultants today.