Why Military Leaders Make Great Accountants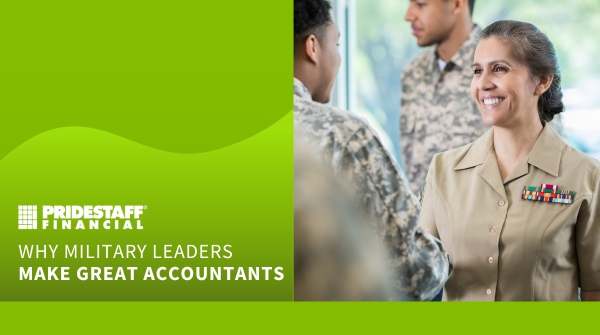 Did you know that major corporations and public accounting firms alike look for specific hard and soft skills first when they build out their teams? Skills that most military leaders have because of their military background. 
Leadership is at the forefront:
Companies place a high value on incoming employees who are boardroom-ready and who possess the maturity to work in client-facing situations. They often find these leadership attributes in those transitioning out of the military.
You probably possess these skills:
The skills required to be an exceptional leader in the military — problem-solving, strategy, planning, teamwork, attention to detail, and a strong work ethic — are the same skills required to be a successful accountant.
It benefits the whole family:
For military spouses, a "perfect career" is undoubtedly quite flexible. Whether it's geographic mobility, work-life balance, or diversity across a wide range of industries, a job with a healthy degree of independence is essential because military life can be, at times, rather unpredictable. Accounting careers offer the flexibility and work-life balance that support family life!
Leaders know how to adapt:
The ability to be flexible and adapt to everything makes a busy tax season less daunting. As a military leader or veteran with leadership experience, you respond to stress and challenging situations better. 
Understands the importance of a team:
Military leaders have situational training that continues throughout their careers–in training, drills, and even field assignments. For example, leadership is frequently rotated (or senior officials are removed from active roles) in training exercises to ensure the unit knows how to shift leadership and adapt. The result is knowledge and experience with leadership skills embedded throughout the organization, and every formal leader knows that there's a very sophisticated workforce evaluating his or her leadership. Military leaders are continuously getting sophisticated advice and assistance from their subordinates about their leadership efforts. This may be surprising to those unfamiliar with the military, but a continuous upward flow of feedback exists in military organizations and is highly valued. The reason for this is that everyone wants the team, unit, or workgroup to be successful and wants the leader to have all the information to make the necessary decisions for the whole unit to succeed. That kind of leadership style is invaluable in the accounting industry—where if an accounting team doesn't get the information right, a client could be severely impacted, as could their future.
Are you ready to kick-start your career in accounting?
PrideStaff Financial has consistently won awards for exceptional job seeker satisfaction. Our highly skilled staffing consultants can guide you in a career in the accounting industry. Contact us today to learn more.