Do You Hear the Buzz? Top Buzzwords to Include on Your Financial Resume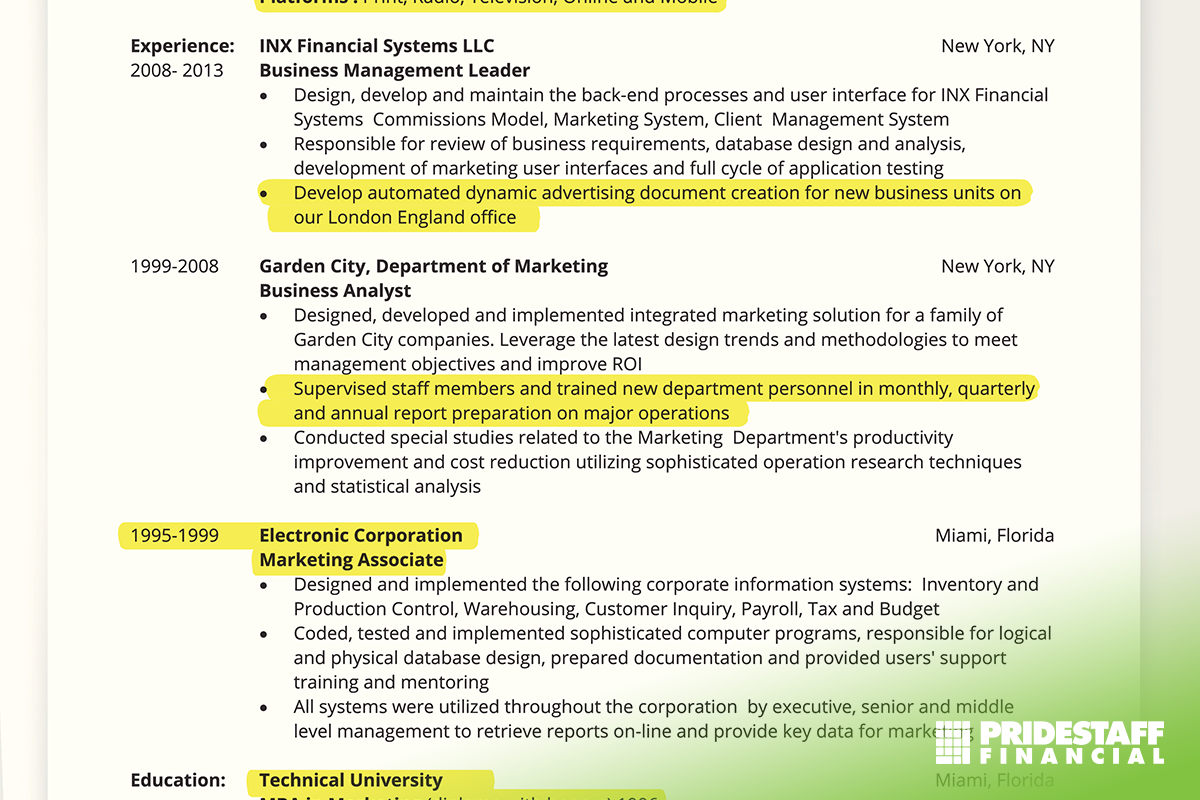 In today's job market, you need to find a way to stand out among the competition and shine. To accomplish that, the first step is to get the person on the other end to sit up and pay attention to your resume instead of tossing it into a pile of "maybes." One tip, use certain buzzwords throughout your resume.
It's accounting, include the numbers!
If you want to show that you're results-oriented and hard-working, share your numbers. You are in the accounting and finance field, use that to your advantage. For example, rather than stating that you're an 'excellent digital marketer,' prove it. Say something that reflects your actual results.
You don't have to be a millennial to be modern:
According to resume writers in the field, modernized, along with conceived and metamorphosed, are like a switch, powering up the candidate's story, showing how they've improved, envisioned and transformed work environments, and therefore, gained revenue, customer growth, reputation, traction, and more, for previous companies. These types of buzzwords empower and tell a strong story for you.
Don't depend on the standards:
Simple, powerful words will be your best friend. Simple, practical words that denote responsibility have the most impact, like launched, solved, transformed, and optimized. These are considered action verbs that make you look good without resorting to standard, boring cliché words that most use.
Don't be afraid to show moments you are proud of:
Show that you've had a role in shaping something from idea through execution. Find a way to weave in something that you've worked on from concept to completion, rather than just executing on a plan that's already been decided. Using buzzwords like, create, managed, led, will signal that you've had a role in this higher-level thinking and will grab the attention of most hiring managers.
Be easy to read:
A resume should be impactful while still easy to read or skim through quickly by recruiters and hiring managers. Hiring managers don't sit down the day before an interview and meticulously read through each resume they're considering. Sometimes they may scramble to make it to the interview on time, read the resume as the interview is starting and skim it to find things to talk about. Be mindful of this when putting your resume together for each job.
Looking for a great financial job? We can help!
PrideStaff Financial has consistently earned ClearlyRated's Best of Staffing Diamond Award for exceptional Talent satisfaction. Our highly skilled staffing consultants can guide you in growing your career or help you transition to a new one. Contact us today to learn more.