Quick Guide: Select the Financial Career that's Right for You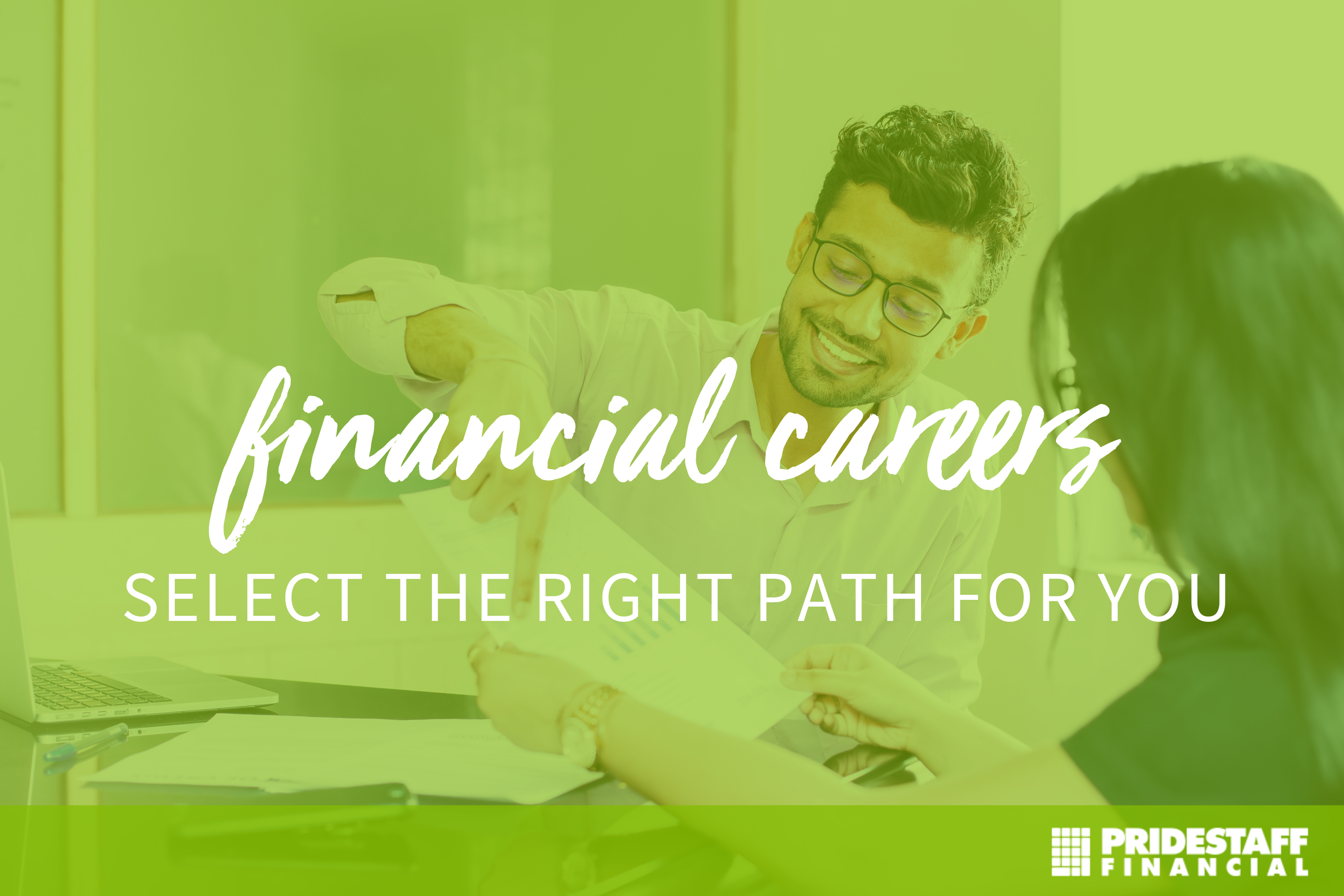 Economic turmoil caused by the COVID-19 pandemic has had a devastating impact on employment in every industry. The financial services industry has fared better than some but has definitely been reshaped. Here are some career options that might be right for you!
Automation is the name of the game
As companies automate the parts of accounting that are easily automatable, they need fewer people with entry-level skills — like bookkeepers and accounting clerks. Employers are looking for people with higher-level skills, as well as people who can do what technology can't do. According to Accounting Today, CFOs predict that technology will create more jobs than it destroys.
Here are three of the top skills that employers are looking for:
General business knowledge.
Having a good understanding of how the different parts of business work and explaining how finance and accounting support the work others do across the business will become key in the future.
Beyond Excel and accounting systems, knowledge of software for business intelligence, data analytics, and forecasting will become part of the job.
That beautiful spreadsheet won't mean anything to someone outside of accounting, so learning to tell the story behind those numbers is going to be essential.
CARES ACT Consultant
Believe it or not, more companies are looking for consultants (financial and business), but especially in the area of the CARES Act. These consultants specialize in marketing, cybersecurity, human resources, intercultural training, exporting, accounting, and finance. They will provide services to clients who need relief funds and/or CARES Act guidance. Companies looking for consultants in this area will have a wealth of experience of successfully helping companies navigate change, adapt, succeed in challenging times, and CARES grants experience or knowledge.
Cash-flow Analyst
Cash Flow Forecasting is the process of obtaining an estimate or forecast of a company's future financial position and is a core planning component of financial management within a company. The main goal of cash flow forecasting is to assist with managing liquidity for an organization/client and ensuring that the business has the necessary cash to meet its obligations and avoid funding issues and better management of working capital. Underneath the high-level goal of liquidity management, there are often a number of reasons why companies set up a cash flow forecasting process, but recently the pandemic has spurned this reason. More accounting firms are gearing jobs toward "cash-flow analyst" positions because of this demand.

Loan Administrators
Companies are hiring more loan administrators to process and monitor loan payments, handle customer inquiries, identify signs of suspicious or unusual account activity, and make recommendations to minimize risks. These in-demand jobs will continue to grow through 2021.
Staff Accountants
Staff accountants are typically responsible for reviewing general ledger accounts and preparing and adjusting journal entries. The duties also often include performing account analysis and reconciliation, maintaining general ledger charts of accounts, assisting with initial internal control evaluations, and posting monthly, quarterly, and yearly accruals. This, combined with automation skills, will make you an asset to any company.
Find the Career That's Right for You
PrideStaff Financial has consistently won awards for exceptional candidate-job satisfaction. Our highly skilled staffing consultants can help you find the career that's right for you! Contact us today to learn more.