Five Benefits to Hiring Recent College Graduates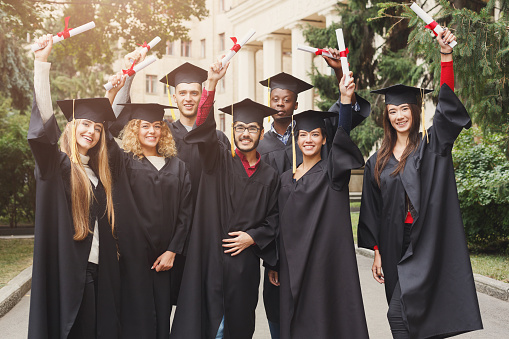 Graduation season is upon us, which means freshly minted young professionals will be entering the workforce ready to get their career started. There are many benefits to hiring college graduates, here are five:
Up to speed on the latest tech:
While you may hate to deal with it, technology is a must in the accounting and finance world, and it's changing all the time. A great advantage of hiring college graduates is their ability to navigate through new, innovative technology, especially new computers and all the integrated work-related applications and software. Because a portion of the current workforce started their careers before computer technology took over the business world, a lot of individuals, unfortunately, don't have the ability to follow some of the more complex computer processes and applications. However, the recent generations are more dependent on computer technology, and will be able to quickly learn all of a businesses' software programs and applications.
Long-term goals over short-term goals:
Recent college graduates are driven and have ambition, and want to climb the ladder, anxious to prove themselves and make long-lasting impressions. By thinking about the long-term needs of your company, hiring a graduate with a lot of drive and potential could be a much smarter business decision. With the ability to be trained and guided to your company's culture, and toward specific managerial roles, recent grads usually have more flexibility and are more open to necessary training than more experienced professionals.
Summer help:
When it comes to staffing, it costs time and money to hire the right people. A great way to alleviate HR's stress and your company's budget is to hire college graduates as summer help. This is the time of year when graduates are looking for work, they want to get their feet in the door somewhere, network, and hopefully land a full-time job. By utilizing their need for work experience in the field, you can fill the gap for jobs that have yet to be filled in your company. It's also a smart way to bring in extra help during busy tax season. Utilizing summer help from college grads, gives you the opportunity to get to know their work ethic and values. It also provides a potential opportunity to hire them for full-time positions.
Lower salaries:
Hiring college graduates allows you to offer lower salaries. Many college grads are willing to work for significantly less salary than "experienced hires."
Think fast:
To be successful in any business these days, you must be able to change with the times. This also means hiring agile individuals who are not only capable of thinking on their feet, but who literally look forward to change. Most college grads have a combination of youth and an excitement for trying new things that makes them more willing to accept and adapt to constant change and work assignments. They're also more adaptable and flexible, as a result they can shift rapidly and frequently between unrelated tasks.
PrideStaff Financial has consistently earned Inavero's Best of Staffing Diamond Award for exceptional Client satisfaction. Our highly skilled staffing consultants can assist you with your hiring needs. Contact us today to learn more.