August 6, 2020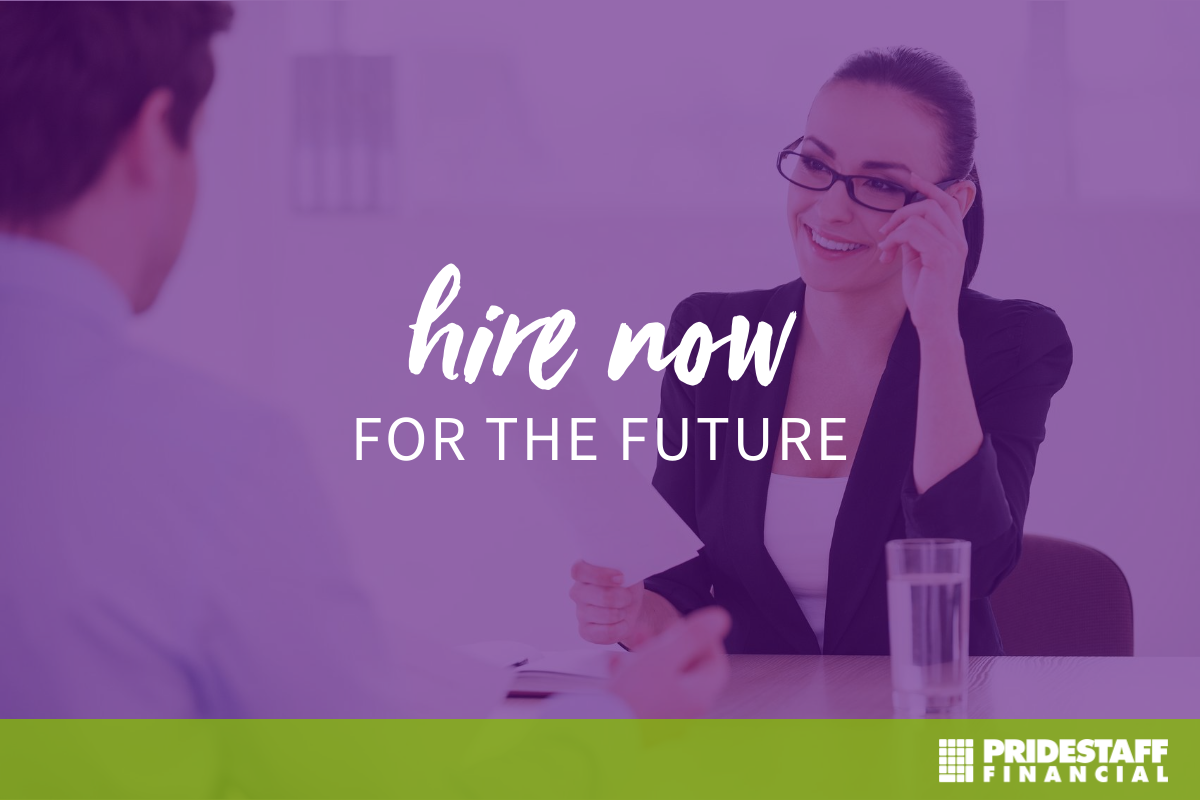 Hiring during a downturn can produce some of the best superstars for the future. By hiring for the future, rather than just filling positions, you are not only making your job easier, but you're also making your company better. PrideStaff Financial identifies why proactively hiring today is so important for your business's future!
Make a strong plan:
Diving right into the candidate search may seem like the easiest and quickest strategy. But taking some time to write out a plan of attack can save you hours in the overall process. First, make a list of key characteristics your ideal candidate has. They may need to have specific certifications, a certain amount of experience, or knowledge of a particular software. Next, make a list of some secondary softer skill needs. Perhaps they need to work well under pressure or enjoy a fast-paced work environment. Setting up a plan helps ensure you get the right candidates for the future of your company.
It's important to know what their goals are:
If you want to hire the best-of-the-best employees, instead of only looking at qualifications and skills, also look for the candidate's personal goals. These can tell you a great deal about your potential new hire. Goals shine a light on what drives candidates, where they see themselves in the future, and how they view their skills and abilities. Looking at the candidate's goals will allow you to quickly see if their aspirations are in line with the organization's and the future of it.
Utilize the best search platforms and be purposeful:
It doesn't make a lot of sense to throw your job postings out there to every platform just to see what sticks. Searching for the right candidate takes a lot of time. Look back at past strategies and ask yourself, where are these candidates looking for jobs? Are they on job boards, social media, or are they currently working somewhere else, and you're looking to capture their attention? It's important to ask, "how can I best target them and excite them about my company when I reach out?" Don't forget to channel powerful search engines like Google and LinkedIn to take your sourcing to the next level. Being purposeful in how you reach out has more to do with the type of candidates you are likely to get interested in your job postings. If you want candidates for the future, you must search for candidates in a meaningful way.
PrideStaff Financial Supports Your Business Needs
PrideStaff Financial has consistently won awards for exceptional client satisfaction. Our highly skilled staffing consultants can help support your business needs during these difficult times. Contact us today to learn more.