How to Effectively Scan and Review a Resume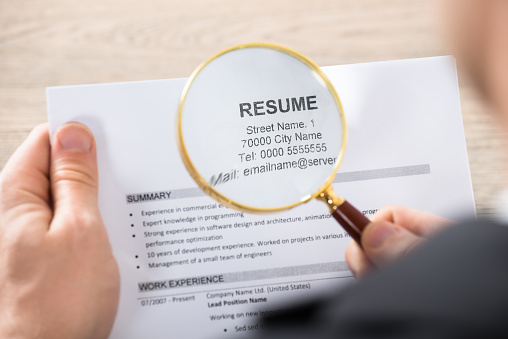 "Hire people who are better than you are, then leave them to get on with it. Look for people who will aim for the remarkable, who will not settle for the routine." — David Ogilvy
Reviewing resumes and hiring the right people may sound simple enough, but if you have 100+ resumes to review, weeding out the stars from the duds takes time, and may not be easy to do. This post will offer tips on screening and reviewing resumes to help you narrow down your search.
Industry-related:
When reviewing resumes, the first thing to scan for is specific industry experience. Make sure past job history weaves in elements of industry practice and lines up with what you are looking for. If you are trying to hire for a senior-level or specialized position, make sure the resume reflects the years of experience the job requires. If the job needs specific certifications or extra training, then scan for those right out of the gate. The resume experience needs to closely align with the job you are hiring for (at least in the areas you deem important).
Keyword scan:
A quick way to see if a resume is relevant to continue combing through is to scan for keywords or "buzzwords." Scroll through the resume to see what keywords match up with the job description. Some companies have an electronic system that will start this process for them. If that's the case, this step is already done for you.
Professionalism:
Look for resumes that have clearly been tailored to your job in mind. This shows they are paying attention to every nuance, company values and importance. Be wary of submissions that are not well organized or contain careless mistakes, such as typos, spelling errors and poor grammar. Resumes need to look and sound professional. When reviewing them, pay attention to language and tone, and any accompanying job-search materials. All materials, including the resume, should sound and read with confidence, honesty and be upbeat.
Nitty-gritty details:
Once you've scanned for the basics and narrowed down your field of resumes, it's time to weed out the stars. Look for resumes that show quantitative results—meaning candidates with a history of delivering on specific objectives by quantifying things like data, percentages, dollars and other signs of financial or quantitative impact. Also, look for those where candidates have gone above and beyond, obtaining extra trainings, traveled to conferences, obtained certifications or are doing continuing education. Look for strong networking. Have they joined a professional group, do they sit on a board of directors or are they part of a community committee that can bring value to the work the company does? These steps will help you narrow down your search and lead you to the candidates you want to work for you.
PrideStaff Financial has consistently earned ClearlyRated's Best of Staffing Diamond Award for exceptional client satisfaction. Our highly skilled staffing consultants can assist you with your hiring needs. Contact us today to learn more.