Your Guide to Impressing Management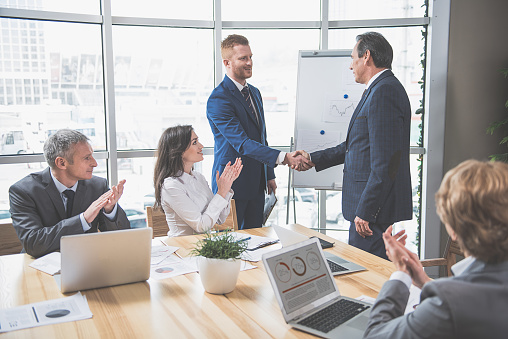 Making a good impression gives you the best opportunity to be noticed by management. Managers are the ones who decide pay, promotions, assignments and even your job security. No matter the department you work in, executives appreciate and take notice when candidates go out of their way to do more or go above and beyond. Here are a few ways to impress management this year.
Look to collaborate:
Understanding how the company functions means recognizing how your job function connects to others. The mistake many employees and lower-level managers make is in getting stuck in their "silos" and focusing only on their own objectives. But high-level managers want all functions to work together to achieve organizational goals. So, branch out and start cross collaborating with other departments when the opportunity arises.
Show your smarts:
Executives and senior managers appreciate when employees take an interest in the business, and they usually love to share their knowledge or perspective. When you have a chance to interact with managers, try to have a few well-thought-out questions ready. Show them how invested you are in getting to know how things run at the higher levels of the company. They will take note of your interest and bank it for future opportunities.
Be a problem solver:
Managers hear about problems all day long, but what they rarely get are solutions to those problems. So, they really appreciate people who focus on solving problems and show initiative. Even if an executive or manager doesn't agree with your ideas, the fact you are coming up with and thinking about solutions will be viewed positively.
Wow them with your presentations:
When presenting information to an executive, you have a chance to make a great impression. Many people make bad presentations, or they are rushed through, or details are glossed over. So, good ones really stand out. If you are unsure of your presentation skills, do some research when putting one together, or ask a colleague to show you how they did one.
Communicate your interests:
Executives want to know where you want to go in your career. Make your intentions known, let your boss know where you see yourself and what positions in senior management interest you. Executives not only like to hear this but sometimes they create shadowing opportunities for people to learn what managers do.
PrideStaff Financial has consistently earned ClearlyRated's Best of Staffing Diamond Award for exceptional talent satisfaction. Our highly skilled staffing consultants can guide you in growing your career or help you transition to a new one. Contact us today to learn more.