Improve Your Job Security With These Three Strategies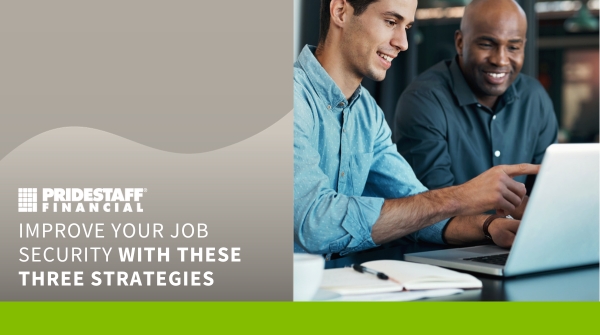 These last few years have been extremely volatile in the job market. According to a national survey by Insight Global, nearly 80% of employees expressed fear over losing their jobs, with almost a quarter of American workers indicating they are extremely worried about job loss.
In addition, in a recent survey conducted by Professional Resume Writers, worry about job security increased by 49%, with those early in their careers experiencing an increase of 91% over last year. If you're trying to improve your job security, here are a few strategies you should consider.
Continued Learning:
Learning new skills at work keeps you engaged, confident and motivated. Technology is always changing, and by staying ahead of the curve, you make yourself indispensable. One way to do this is to teach yourself or seek a professional certification. Stay on top of industry trends by reading blogs, watching videos and listening to podcasts. And don't forget to take advantage of company-sponsored training opportunities. It's also a good idea to engage with professional organizations. In doing so, you'll show your commitment to the industry while growing your network. By conveying your willingness to learn, you'll more easily advance your career.
Increase Your Involvement in Visible Assignments:
Another way to increase job security is to look for opportunities to sign up for high-profile projects. Invest in assignments that will allow you to demonstrate your leadership and commitment. For example, let's say you are interested in diversity, equity and inclusion (DEI)—which is a growing trend among all industries these days, but it's not part of your current responsibilities. Work with your manager to find ways to get involved so you can put those skills to use. These initiatives also allow you to work cross-functionally, which will increase your visibility at work.
Believe it or Not, Personal Brand Can Increase Job Security:
Having a strong personal brand gives you job security and leverage. It involves intentionally positioning and promoting yourself in a creative way that makes you stand out from the pack—but without burning bridges within your team. Branding yourself is essential in today's world, where careers are fluid and increasingly non-linear. While you might have several jobs over the course of your lifetime, your personal brand is something you have control over. Not only does it make you a more desirable employee, but it can also help you land on your feet if you need to change jobs.
Looking for other career options? PrideStaff Financial has the job opportunities you've been searching for!
PrideStaff Financial has consistently won awards for exceptional job seeker satisfaction. Our highly skilled staffing consultants can give you the tools you need to grow in your career. Contact us today to learn more.