Your Accounting Team Should Still Have These Soft Skills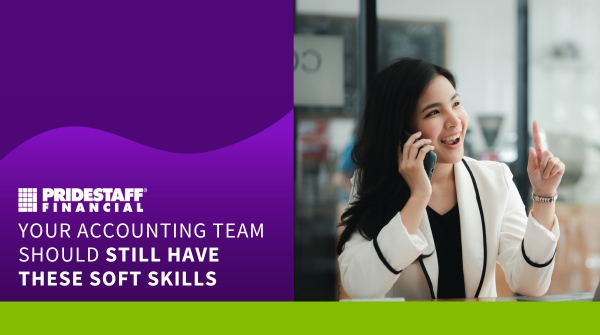 Hard skills are vital for most accounting or finance-based careers, but soft skills are still extremely important. As technology and automation continue to improve, the hard skills of accounting lose some of their importance. This has combined with, or perhaps helped create, the rise of advisory services, which essentially combine soft skills with accounting proficiency. We break down a few important skills your accounting teams should possess or develop.
Become a people person:
Your accounting firm exists to serve clients. Help your team to develop a focus on people. Avoid falling into the trap of employees becoming accustomed to only doing the work behind the scenes. Don't make evaluations of your team's work based only on their efficiency in getting out reports. Make it a habit in team meetings to ask questions about the people you are serving. By prioritizing people, you'll start to shift habits to more emphasis on connecting. The key to good communication with clients is understanding. Everyone is different and has their own preferences. By connecting with them and paying attention to cues, you will hear what their true concerns are. Then you are in a much better position to serve clients and help your staff increase this soft skill.
Conversations lead to communication:
Like any developing skill, accounting communication skills improve with repetition. Encourage your teams to increase the volume of conversations with clients as well as with each other. A simple 15-minute explanation can develop essential rapport much more than a long email. You may have accountants who dread the phone or video chat. This will improve with practice. Create round table discussions for staff to get used to interacting with each other and not hiding behind their spreadsheets.
Decision Making:
Your teams should know how to make decisive decisions. The best accountants know how to use the results of the accounting analysis to make a sound decision and then translate that to the rest of the team and to your clients.
Critical Thinking:
This can cover many things, but for accountants, it typically involves looking at numbers, spotting trends and developing a coherent strategy based on what they find. However, the other part of this is that critical thinking also involves problem-solving so that when issues are found, accountants can come up with a good plan that fits both your firm and the client's long-term plans.
Are you looking for top accounting talent near you?
PrideStaff Financial has consistently won awards for exceptional client satisfaction. Our highly skilled staffing consultants can help you strengthen your future company goals and help you assess the best soft skills for your team. Contact us today to learn more.