Three Reasons You Might Be Attracting the Wrong Candidates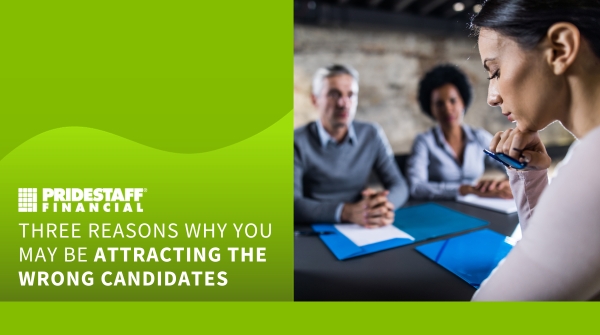 Hiring isn't an easy task, and oftentimes, the applicants you get aren't necessarily the talent you're searching for. Here are three ways you might be attracting the wrong kind of candidates.
Are your job posts getting lost among millions of other ones?
Your job ads are a representation of you, your business, and its culture, so you need to make sure that this is reflected in the language you use and the information you share. You're "selling" the opportunity of working at your business, so it's worth ensuring that your job ads are authentic. You need to bear in mind that there are thousands of other listings trying to compete for the same space and the same talent. Use your business elevator pitch to hook the reader in. Write a paragraph talking about your work culture, a "day in the life at the office," how your team works together, your values and everything else you stand for. Have you recently been on a team building day or work social? Tell applicants about it. These types of perks genuinely resonate with entry-level candidates.
Could the job title be your problem?
Think about your job title and description as an online consumer would. Put yourself outside the company. As consumers, our eyes are drawn to subject lines or headlines that connect with us. In job ads and descriptions, this refers to the job title itself. Particularly at the graduate level and entry level, there is a lack of understanding of what job titles mean, with business jargon often clouding the true meaning of a role's expectations.
For example, the job title' Account Manager." How many graduates will know that this isn't a position that deals with company finances? What does a Business Development Executive do? In fact, isn't an 'executive' someone vastly experienced who operates at the management or board level? Avoid overly creative job titles if you want to rank on Google Careers, as their algorithm rewards good structure and clarity of pay, location and job title. Finding the balance between clarity and creativity is crucial and will depend on your brand and the candidates you want to attract.
Where are you placing your jobs?
Just placing your jobs on internal job boards isn't enough to find the best candidates. Where else are you placing your job ads? Yes, external job boards can help, but you can also harness social media to place ads. Use Instagram to showcase the office. Do video reels with current employees to show why someone might love working there. Place jobs on LinkedIn, connecting to your vast network. Consider recruiting firms that can place your jobs as priority placements and help you structure your job advert appropriately so that you bring in the right candidates.
Do you need assistance finding your next all-star? Our team is up for the challenge!
PrideStaff Financial has consistently won awards for exceptional client satisfaction. Our highly skilled staffing consultants can guide your job opportunities to the right candidates. Contact us today to learn more.