Interview Questions All CPA's Should Be Prepared For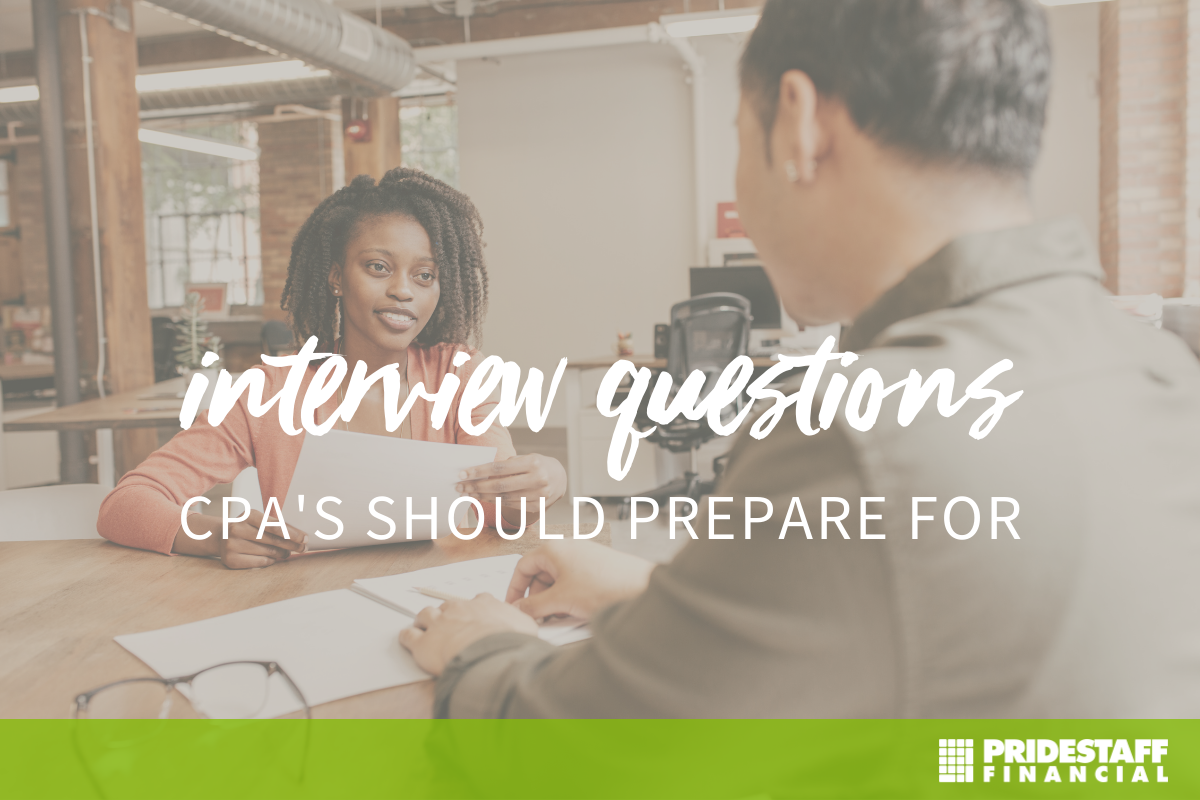 Getting ready for an interview isn't as simple as dusting off your resume and hitting send. You need to know exactly who you are sending your resume to and prepare for the questions hiring managers might ask. You want to put your best foot forward by getting prepared and knocking the interview out of the park!
Here are some interview question topics that all CPAs should be prepared to answer.
Your background—work background that is:
This might feel like a broad or vague question, but here recruiters or HR personnel want to understand the depth of your accounting experience and how you think and talk about your career trajectory. If you're interviewing for a tax role, what type of returns have you worked on? If an audit, what was the size of your client(s) and industries? What type of projects have you worked on or are currently working on? When you answer, don't tell your whole life story, briefly summarize your career and the work you've done at a high level.
Know your stuff:
Any accounting interviewer is going to want to know if you know your stuff. Most often, you will get asked what type of accounting processes you are most familiar with. This question gives them an idea of what type of functions you've performed within accounting—as it looks different from department to department and company to company. It also shows how the work you've done is relevant to the work you would be doing in the new role. When answering, go as in-depth as possible, so they understand the significance of your role. You'll want to include the accounts you're responsible for (accounts receivable or payable, or cash, etc.) or if you're responsible for specific parts of the financial statement. Include dollar amounts of accounts (if it's not confidential) or the number of accounts you worked with to further substantiate that you were a key player on the team.
It's all about software and AI nowadays:
It's essential to know your software. You can certainly bet that any interviewer will be asking this question. An interviewer wants to assess your experience using accounting tools and software. If you have experience using the specific software that the company you're interviewing with uses, mention it! It shows you have specific knowledge of their company and have done your homework.
The communication question:
Accountants don't work in silos! Not only are you part of the face of the company to external clients, but you work hand-in-hand with other departments and staff. There may be times when you encounter a discrepancy with a client or when an account reconciliation is inaccurate, and you have to confront your colleague about the error. Interviewers are looking to see that you have no issue handling difficult conversations and are efficient at quickly solving problems that may arise, especially if you're under a tight deadline. Be sure to avoid badmouthing your company/previous company or colleagues as this could reflect poorly on you as a future employee or coworker.
Added value:
This question is big. Interviewers/potential employers want to know exactly what they will get in hiring you. What value are you going to add to their company outside of working with clients? They want to understand how well-rounded you are and how committed you'd be to getting involved internally. When answering, be straightforward. It's an excellent way for you to show leadership skills beyond your accounting work's day-to-day requirements. If you've helped with business development activities to grow the practice or led a committee or initiative, those are positive factors to demonstrate your versatility.
Meet Your Career Goals with PrideStaff Financial
PrideStaff Financial has consistently won awards for exceptional candidate-job satisfaction. Our highly skilled staffing consultants can help you find the right job or gain the skills you need to meet your career goals. Contact us today to learn more.