Four Leadership Traits and Mistakes to Leave Behind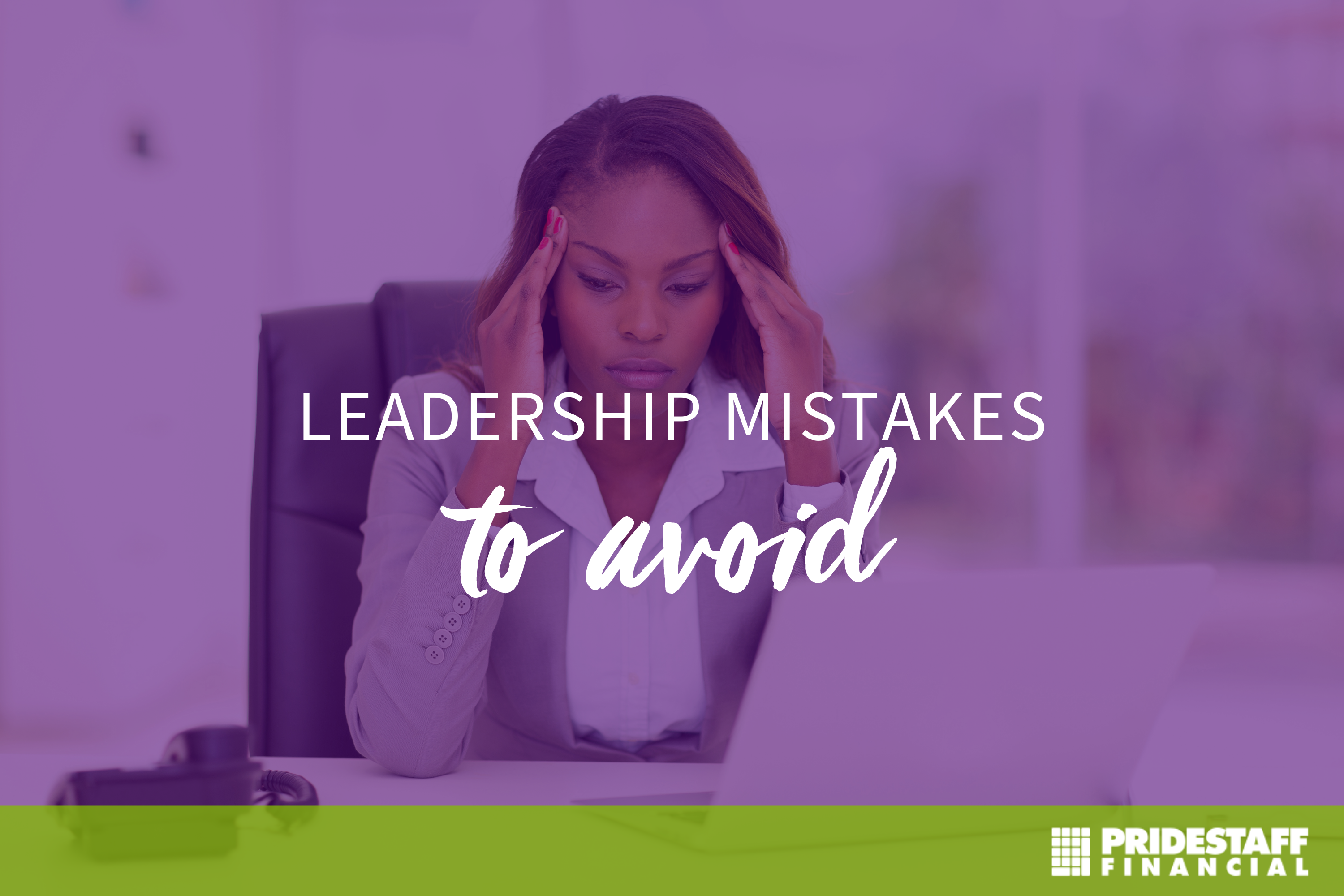 Leaders shape our nations, communities, and businesses. We need good leaders to help guide us and make the essential large-scale decisions that keep businesses moving. But great leaders also know how to keep great employees and cultivate a positive workplace culture. But do you know what it takes to become a good leader, and what mistakes to avoid? PrideStaff Financial offers some traits to be mindful of and mistakes to avoid.
1. Not Delegating Effectively
Delegating is one of a leader's core responsibilities, but it can be tricky to delegate effectively. The goal isn't just to free yourself up, it's also to support employees might be managing, and enable more of a macro-management style. You must also facilitate teamwork and provide autonomy, which leads to better decision-making and helps your direct reports grow. To delegate well, you need to build trust with your team.
2. Poor Communication
Effective leadership and effective communication go hand-in-hand. You need to be able to communicate in various ways, from transmitting information, keeping an open-door policy, coaching your people, and not passing judgment too quickly. And you must be able to communicate with a range of people across roles, social identities, and more. If you are looking to climb the ladder into a leadership role, you must make sure you learn how to work and communicate across all levels of the company.
3. Not Having Self-Awareness
While this is a more inwardly focused skill, self-awareness is paramount for leadership. The better you understand yourself, the more effective you can be as a leader. Do you know how other people view you, or how you show up at work? Do you make others adhere to rules and guidelines but disregard them yourself? What are your values personally? Do you judge others to quickly or project your own weaknesses onto others? These are all very vital questions to ask when assessing your awareness of your strengths and weaknesses and key to becoming a good leader.
4. Not Showing Empathy
Empathy is correlated with job performance and a critical part of emotional intelligence and leadership effectiveness. If you show more empathy towards your direct reports and colleagues, you're more likely to be viewed as a better performer by your boss. Empathy can be learned, and in addition to making you more effective, it will also improve work for you and those around you.
Avoid these mistakes
Just as great leadership skills are vital, it's also vital to avoid various mistakes in attaining your leadership goals. Asking employees who bring a problem to your attention to "work it out themselves" never solves anything, or pointing the finger in another's direction are examples of poor conflict resolution and should be avoided. It's also important not to be willfully blind; no one likes bad news. If you want to be a good leader, remember that the staff will be looking to you to make the tough calls. Difficult decisions and discussions are crucial, and the failure to handle them fairly and responsibly can destroy trust, corrupt governance, and corporate culture.
Utilize Your Leadership Skills for a New Role
PrideStaff Financial has consistently won awards for exceptional candidate-job satisfaction. Our highly skilled staffing consultants can help you find the right job or gain the skills you need to meet your career goals. Contact us today to learn more.