Should We Be Closely Monitoring Employee Computers?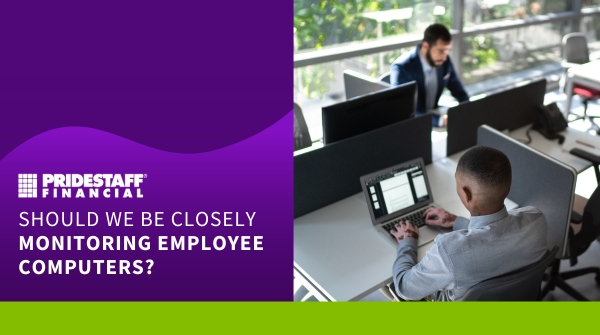 Yes, many workers are remote, and work dynamics have changed the way we engage with employees. You might expect that monitoring an employee's computer activity would be effective in reducing harmful or low-productivity workplace behavior. And indeed, studies have shown that in some contexts, monitoring can deter certain specific behaviors. However, other recent research suggests that, in many cases, monitoring employees can seriously backfire.
Before deciding whether to use this type of software, it is best to understand the pros and cons of employee monitoring:
Pros:
With so many businesses switching to remote working cultures, the dynamics of how management functions changes drastically, and productivity can fall to the wayside. According to the journal Social Cognitive and Affective Neuroscience, employees work better when they know they're being watched.
Potentially save money:
There are workplace surveillance tools and monitoring software that you can consider using. Doing so is a money-saving tool because when employees are productive during the time you're paying them for, you are more likely to get your money's worth as an employer.
Increased security:
Monitoring software allows you to view saved documents, installed applications, websites visited, and messages sent on company property, like computers and mobile devices. It monitors business files, account information, and client data. This can protect your company from insider threats, security breaches, and suspicious behavior.
Cons:
You may have to hire new employees just to manage and monitor the software surveillance systems you implement. Breaking down employee activity is time-consuming and requires careful examination. Analyzing this information helps with decision-making, but condensing it isn't a quick process. It's a trade-off that requires a little work.
Higher turnover:
Micro-managing employee behavior and productivity can negatively affect your bottom line and employee morale. Employees may retaliate by quitting at high rates and feeling untrusted to get their work done. If a work culture, whether remote or not, becomes toxic and suffocating, then you have to ask yourself—why would an employee stay?
Not considering feelings:
Instead of making employees more productive, surveilling them can hurt their morale. Employees feel that you don't trust them, and when employees feel doubt, they may not excel at their job. Creating a workplace culture of trust, honesty, fairness, and fluidity with how an employee uses their time can make employees work harder and smarter.
Learn more from our team today!
PrideStaff Financial has consistently won awards for exceptional client satisfaction. Our highly skilled staffing consultants can help you navigate new workplace dynamics. Contact us today to learn more.