Staffing Adequately for Tax Season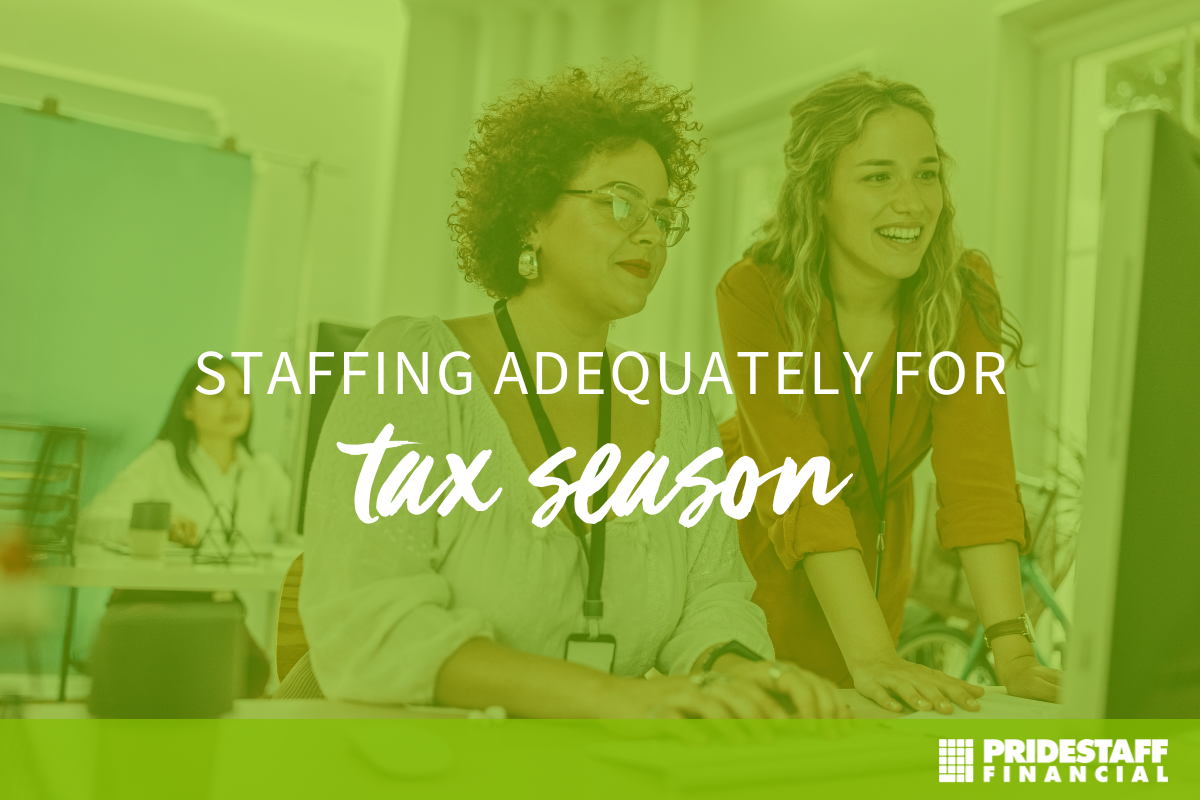 Tax season is fast approaching. How will your company handle the influx of workload? This post will walk through how to plan for staffing and use contract staff to help alleviate the stress on your full-time staff/department during tax season.
Hiring in 2022 looks different:
Some firms have moved or plan to transition to hybrid working arrangements, with staff dividing time between home and the office. But just because a team member agreed to come into the office three days a week doesn't mean you can't rethink that arrangement if their commute starts wearing them down and their productivity suffers. Reverting to full-time remote status (during tax season, at least) could be good for both the employee and the firm. Hiring remote workers can be a huge benefit during the influx of "tax season,"      and it allows you to hire from other regions which opens the pool of candidates.
Bring on a recruiter to help:
Don't let other firms beat you to the punch because you don't have enough recruiters to focus on staffing up for your busy season. A skilled recruiter will find you the contractual workers you may need and may not be needed outside of the busy-season ramp-up. Like any business, accounting firms are always focusing on growth. So, even if you've brought back contractors from previous busy seasons, you'll still need to staff up to support any new business layered on top of what's recurring. Staffing recruiters can take the worry out of securing that contract talent so you can focus on what's important: the clients
Be willing to extend contracts:
Bringing on contractual workers helps immensely when dealing with tax season ramp-ups, however, are you losing the best workers to other firms? Contractual staff are gravitating toward firms offering longer-duration contracts. In the past, a typical busy-season contract may have lasted three months. Today, these same contractors are being offered up to six months, with firms subsequently moving them around as needed to ensure their talents are fully utilized through the life of the contract. With most work being done remotely, contractual staff can more easily be moved from one team to another. This tactic will also offer you the flexibility to bring on more business throughout the year. Though the "busy season" is a milestone on the calendar of every accounting firm, business comes throughout the year. Signing contractors to longer engagements can reduce the amount you have to invest in recruiting.
Empower your HR staff:
In today's marketplace, it's a candidate's market, with desirable contractors typically entertaining multiple offers — including permanent work — and commanding premium compensation. Finding strong candidates in this environment is challenging. This makes the speed of hiring important. Instead of working through multiple layers in an organization to obtain approval, hiring managers should be empowered to select candidates themselves so they can move quickly when an attractive candidate is identified.
Need to hire accounting help?
PrideStaff Financial has consistently won awards for exceptional client satisfaction. Our highly skilled staffing consultants can help your company staff      up during busy seasons. Contact us today to learn more.