The Proper Way to Decline a Job Offer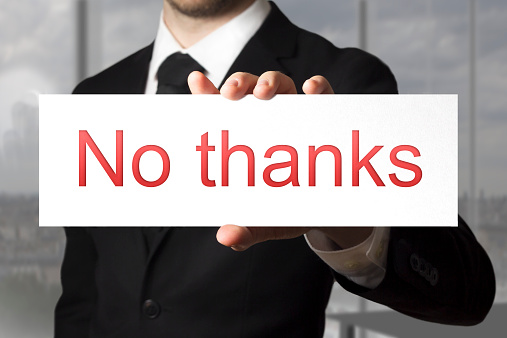 You're looking for a new job—that's great! It can be an exciting time—and daunting. Many people who are job hunting have a tendency to take the first job offered, for fear of not finding something else. But not every job is the right fit. If you'd like to stay in a company's good graces for future reference, PrideStaff Financial offers tips to decline a job the right way!
Show the love (aka appreciation).
It's very important to thank the hiring manager for the offer and their time. Interviewing potential candidates might be part of HR's job, but they probably spent hours reading your resume, digging into your social media profiles and meeting with you for possibly several interviews. They also may have gone out on a limb to talk you up to other members of the team, showcasing why you are a great fit for their company. Taking the time to tell them you appreciate all their effort and time goes a long way in not burning future bridges.
Explain why.
It's the respectful thing to do, particularly if you've spent a lot of time interviewing, to not leave a hiring manager in the dark about why you're declining the job. However, you don't need to give in-depth details about the concerns you saw during the process, or chatter on about the amazing perks at the job you did accept. Also, don't tell them you agonized over your decision. The best approach is to be brief but honest about your specific reason for not accepting the position. Give them a few points about what you did like about their company and that you accepted a job elsewhere.
Practice good communication.
The job search world is not as big as many may assume. Offering some small pleasantries before you end an email or phone call is always a good idea. If you can reference something you discussed, like an event or conference you're both attending, do so. With social media platforms, such as LinkedIn, it is easy to find a casual way to keep in contact with the "declined" employer. Keep an eye out for fairs or news they may post and send a positive comment once in a while.
Don't procrastinate.
HR and staff managers typically spend months searching for job candidates and hours interviewing, with more hours devoted to their top two candidates. A lot of effort goes into hiring and making an offer—so it doesn't look good if you wait weeks after an offer has been made before turning it down. Be polite, respectful and gracious in your understanding they need to fill the position as soon as possible. Whether you have another offer on the table or not, if you know you don't want the current offer made to you, turn it down the minute you make your decision.
PrideStaff Financial is a 5-star diamond award recruiting firm. Our staffing consultants can help you in your job search and interview process. Contact us today to learn how we can help you.