Do People Really Just Not Want to Work Anymore?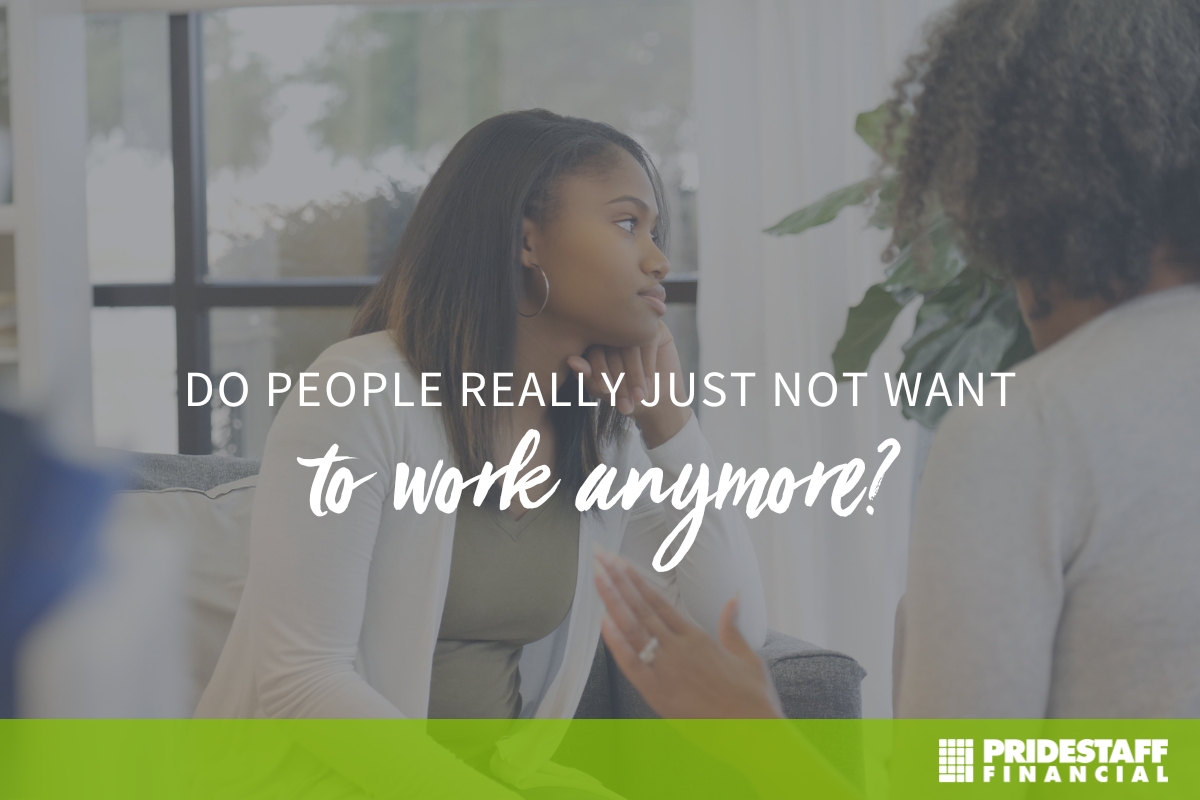 Post-Covid work structure has fluctuated immensely and with it, misconceptions that there's no one out there that wants to work. Today's labor market is tight, and employers are certainly struggling to fill open positions—but not for the reasons many think. As of July 2022, the national unemployment rate sits at just 3.5%. The reason behind this low number? Employees are feeling confident and secure in their current roles. Fewer and fewer are seeking new opportunities. According to the Harvard Business Review, employees connecting more with themselves, striving for balance, and building new behaviors are the key drivers of employee confidence. This shift is due to the pandemic and it's not going to change. If you are struggling to fill roles, it's time to look at current employment and compensation trends and critically weigh if your job offers or current work culture meet these demands.
Remote work isn't just a phase:
You may not want to hear this, but nearly 35% of all professional jobs in North America will be remote by the end of 2023.  While just 4% of high-paying jobs offered remote opportunities before 2020, that number now exceeds 15% and continues to grow. Experts are calling this trend the "largest social change in America since the end of World War II." Employees have found a healthy work-life balance with remote opportunities. They can care for children, tend to household duties, enjoy more health and wellness-based activities from the comfort of their homes, and get back time previously spent commuting.  Many employees have found a rhythm with remote working and have found confidence in being able to do just as great a job working from home. With that said, it's not surprising that employees will leave a company that does not offer flexibility that matches their expectations. That means that hybrid and remote work options need to be on the table when it comes to compensation packages.
Managers need support:
Low- and mid-level managers are now the colleagues with whom direct reports most regularly interact, and 60% of hybrid employees say their direct manager is their most direct connection to company culture. Management is a skill, and for most people, it takes practice. The dual pressures of remote work and employees' evolving needs and expectations have amplified poor management. In 2023, the best organizations will take two key actions to relieve pressure on managers. The first is to provide fresh support and training to mitigate the widening managerial skills gap. Current trends have found that the approaches that were successful in 2019 are ill-suited for the managerial workforce of 2023. The second is clarifying manager priorities; making it clear how managers should allocate their time and redesign their roles where necessary.
Recognize there is still pandemic trauma:
Most humans, and that includes current and incoming employees, are still experiencing pervasive mental health challenges because of the societal, economic, and political turbulence of recent times. This may decrease productivity and performance, as well as increase angry outbursts, no-notice quitting, workplace conflict, and sudden underperformance. According to recent surveys, eighty-two percent of employees now say it's important that their organizations see them as a whole person, rather than simply an employee. This is reflected in how they make decisions about where they work. So, what can you do to keep up with expectations? Many HR departments are now implementing things like proactive rest which may include proactive PTO before high-demand working periods, no-meeting Fridays or four-day work weeks; discussion opportunities to work through challenges and difficult topics without judgment or consequences; trauma counselors to provide on-site counseling, and train and coach managers on workplace conflict as well as how to have difficult conversations with employees.
DEI efforts:
This is a tricky area to navigate. Organizations are trying to bolster diversity, equity, and inclusion (DEI) efforts; however, some employees and candidates are showing signs of resistance. Political and ideological trends that characterize DEI as social engineering or discrimination against historically favored groups amplify this resistance. Employee pushback invalidates, disrupts, or disconnects from programs meant to enable marginalized groups. While many organizations ignore employee pushback because they fear validating it as legitimate, left unchecked, it may decrease engagement and inclusion, and ultimately result in attrition. In 2023, savvy leaders will address the opposition early, before it evolves into more disruptive forms of resistance and are finding ways to build in education programs and on boarding to address these fears.
Having trouble recruiting finance and accounting professionals?
PrideStaff Financial has consistently won awards for exceptional client satisfaction. Our highly skilled staffing consultants can help you navigate these trends and employee expectations. Contact us today.