What Jobs Can I Get with an Associate Degree in Accounting?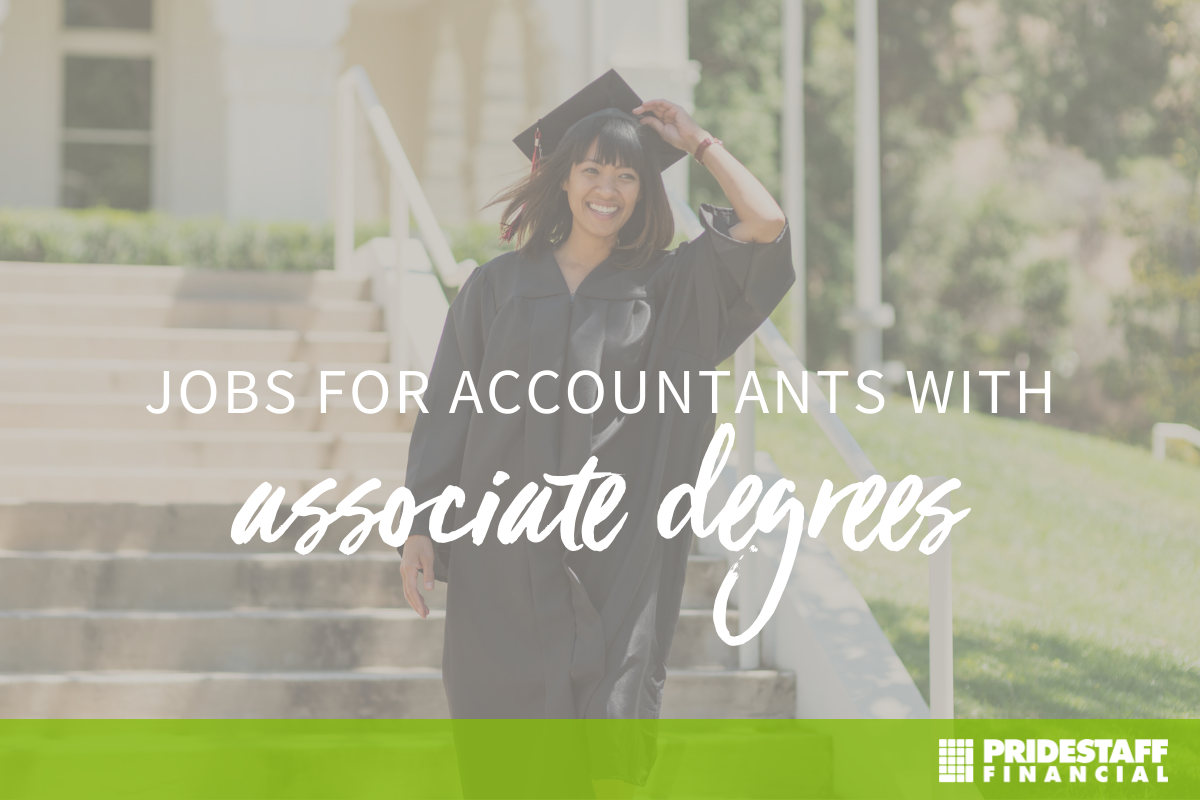 Depending on where you want your accounting career to go, there are options for you with an associate degree. However, most financial companies do prefer further certifications and/or a B.A. in accounting or finance to proceed. Having an associate degree is a great jumping-off point for those interested in the field of accounting. Here are the jobs you can get with your degree!
Accounting Assistant:
You'll work with either a specific accountant or as part of a larger accounting department. Tasks will depend on who you work for. As an assistant for an individual accountant, you would be expected to do typical office duties, from answering phones to interacting with customers and handling financial statements. In larger departments, assistants can work on payroll, bookkeeping, and collecting invoices.
Auditing or Bookkeeping Clerk:
Bookkeeping and auditing have been placed together as their jobs usually work in conjunction with one another. These positions are responsible for managing financial records for either large or small organizations. Duties include producing reports, accuracy checking, entering financial transactions, and the like. It also requires a lot of technical knowledge because you'll be working with software and spreadsheets. As a bookkeeper, you will be required to maintain some or all of an organization's general ledger. As an auditing clerk, you'll typically be ensuring that documents and figures are coded properly.
Payroll Clerk:
You'll handle a variety of tasks concerning employee compensation. This might include distributing paychecks, calculating wages, and maintaining administrative records. Payroll clerks also monitor employee attendance such as reviewing timecards/sheets, vacation days, etc.
Account Resolution Specialist:
The duties of an account resolution specialist include coordinating with vendors, performing research, collecting payments regarding overdue bills, negotiating repayment plans, and creating and maintaining records. You might also be expected to participate in resolving borrower issues, preparing resolution documents, monitoring order issues, recommending resolutions regarding customer billing issues, facilitating payments, and managing account receivables.
Purchasing Agent:
A purchasing agent negotiates deals with vendors and suppliers. Duties include developing purchasing strategies, negotiating with suppliers, managing supplier relationships, coordinating deliveries and contract compliance, ensuring the quality of supplies, monitoring stock levels, maintaining records, and understanding market trends.
Looking for a great accounting job?
PrideStaff Financial has consistently won awards for exceptional candidate-job satisfaction. Our highly skilled staffing consultants can help get started in a new career or guide you to your next steps. Contact us today to learn more and be sure to search our accounting job openings.