7 Possible Reasons Why You're Not Getting Hired and What to do Next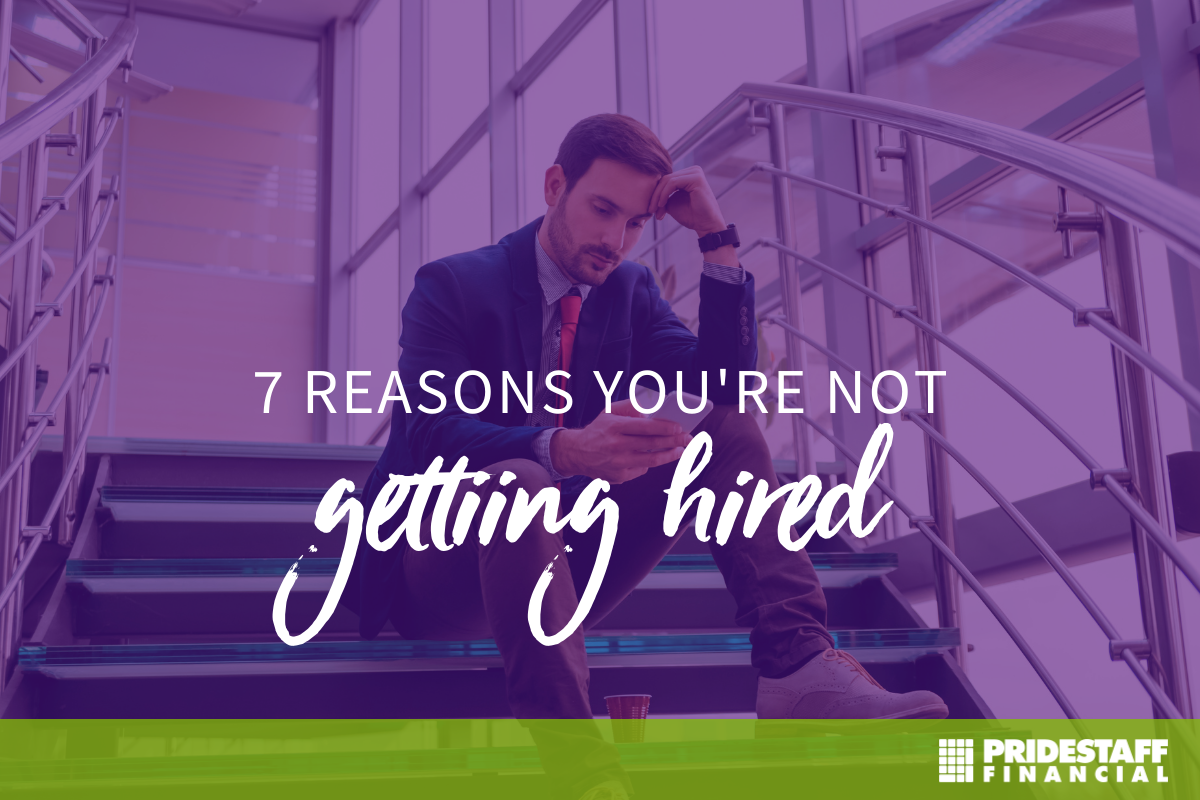 It can be quite frustrating when you put the energy into writing—or rewriting a resume, hiring a resume writer, going through interview processes, only to not get the job. Or worse, not even get the interview! We explore what might be going wrong and ways to fix it!
Are you tailoring each and every resume to the specific job?
It is definitely a pain, but in order to get the attention of the HR staff weeding through the hundreds of applicants sending in resumes, it's important to speak the same language on your resume that you see in the job description. Employers are not going to do the extra work to figure out how you measure up. You have to be sure to tell anyone reading your application how you're suited for the role. That means figuring out what skills and experience a potential employer wants and then highlighting said experience in the form of accomplishments in your resume. You don't necessarily have to do this for every single role. But at the very least you should tailor your application for every type of role—for example, you might have a financial analyst resume and cover letter, and a different financial management resume and cover letter—as well as individual roles you're especially interested in.
Are you getting lost in the system?
Maybe you are reading this and saying, "Yes, I do tailor my resume for each job and I'm still not getting an interview!" Well, your application could be getting trapped in applicant tracking system (ATS) limbo and never actually getting read by human eyes. If you're applying for jobs through online systems, your resume is probably being sent through an ATS, which scans applications, tracks applicants, and generally helps recruiters and hiring managers manage the search on their side. Hiring professionals can also use ATS to search for resumes that contain keywords that are relevant to a given job. So, to make sure you don't get stuck in the "outer rim," make sure you don't use fancy resume formatting like graphics, columns, or special-colored banners at the top. Also, include keywords in the right context. Scan the resume and use words from their job description, matching them with words you use. Lastly, use standard headings like "experience in" or "education of."
Are you applying to the right jobs?
While sometimes people apply to jobs that are very left field or not in their wheelhouse, however, you'd be surprised to learn that many times candidates are applying and interviewing for jobs they are overqualified for! Even if you are doing a good job of making sure you are qualified for the role, you might be overlooking whether you are in fact overqualified. Hiring managers obviously won't hire someone who doesn't have the skills or experience to do the job, but they're also hesitant to hire someone who has gobs of experience for an entry-level role. How will they keep you interested and challenged? Won't you just leave once something more suitable comes along? The last thing a company wants is to have to fill the role again after you've gotten bored and quit. Make sure you're targeting the right jobs for your background. And if you genuinely do want a job, you are overqualified for, then stamp that out in your cover letter and explain why.
Are you getting the interview but not the job?
You might dismiss the common advice to research a company before an interview, however, employers evaluate the likelihood of you accepting an offer before they even extend one. They also evaluate your commitment to getting to know the company before you are interviewed. And a good way to show that you're likely to accept is to show interest in the company. How do you show interest beyond simply saying you're excited about the opportunity? By knowing a lot about them. Research a company's products and services. Prepare to talk about how you've used them or similar ones in the past. Read up on their values and check to see if you have any contacts at the company via LinkedIn.
Have you prepped for the interview?
Job searches tend to occupy a lot of headspace—even more after you get an interview invite. But be careful you're not spending all your time just thinking about the interview. You need to really prepare. You should be looking at common interview questions and practice how to answer them out loud. If you can find someone to do a mock interview with and give you some feedback on where you could've been stronger or when they started losing interest in what you were saying, even better. Don't try to memorize your answers—you don't want to sound robotic, because your answers could change depending on the company and what they're looking for.
Do you know that there is also a technical screening?
A technical screening these days is a separate part of the interview where you might, let's say, have to take a copywriting test or you get a financial software question thrown in during a first-round interview—among other evaluations. In other words, anything that assesses your technical ability to do the job. Failing the technical screen usually means an automatic rejection, so it's absolutely critical that you do well enough to move forward. Skills tests typically don't require flawless execution, but if you're struggling with technical assessments every time you interview with a new company, then you probably need to spend some time buckling down. Find a relevant book or course and get studying. Be sure you're not making common mistakes you can easily fix—like not following directions.
Are you getting multiple interviews but not the job?
This is critical and takes some reflection. Maybe you have all the right skill sets, but do you have the story? You're applying for the right jobs, you're passing the screens and early interviews—and yet, no offers. What's going on? You might not have the right story. The "right story" is kind of a fuzzy concept, but basically, you don't want the hiring manager to walk out of the interview thinking, "Yes, they can do the job, but why do they even want it?" In interviews, you need to make the case for why a job makes sense as the next step in your career. Essentially, you need to sell yourself—genuinely. In other words, how does this job fit into the story of your professional development?
PrideStaff Financial has consistently won awards for exceptional candidate-job satisfaction. Our highly skilled staffing consultants can help guide you to a new career. Contact us today to learn more.