A Time to Give Thanks to Your Internal Team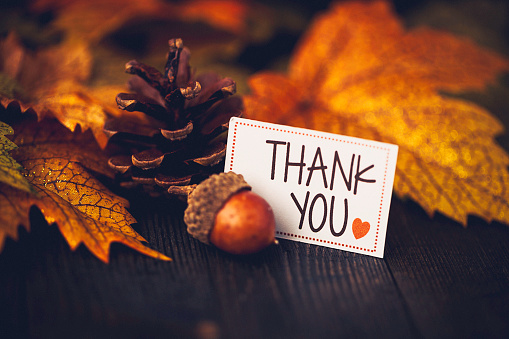 With Thanksgiving around the corner, here are some tips for showing your internal staff that you appreciate their hard-work and dedication throughout the year.
Have some fun:
"Raise the roof and have some fun," the classic words from Lionel Richie's song All Night Long may provide some motivation. This month is the time to give thanks to your teams for all they do. What better way than by loosening the rules a bit. For example, set up a television in the break room and play some holiday classics, such as, A Charlie Brown Thanksgiving, When Harry Met Sally, and Home Alone. You can add this on at the end of lunch hour (to give employees longer break periods) or towards the end of the day. Offer popcorn or other goodies to snack on, and make sure the entire office is welcome to join in.
Kid friendly zone:
The week before the holiday weekend, give employees an opportunity to bring in their children to work for the day. Set up the break room, lunch room, or a meeting space as a designated play area for the kids—outfitted with a T.V. for kid friendly movies, and some arts and crafts projects. Make sure to have snacks, juices, family-style lunch times, and have designated staff—human resources or admin assistants assisting the kids with their projects. Allow employees to show their families around; allow it to be fun. You can make this as short as a couple of hours, but it sends your employees the message that you care about what they care about.
Pre-Thanksgiving Thanksgiving:  
What a great way to say thanks than by having a Thanksgiving-style lunch with all the trimmings. Plan ahead, and tell your teams that on a designated date and time, a Thanksgiving feast will be hosted in the cafeteria or break room. If employees choose to bring a dish they can, but offer to cater the meal to show your staff how much you appreciate them. Allow for an extra long lunch break for all staff without the strings of having to work late to make up the difference.
Extra-long holiday:
Offer an extra day-off for staff to provide them a longer weekend. Or, offer employees the option to work from home the Monday after, this way it's a win-win for everyone. Doing something as simple as this shows your employees just how valuable they are to you.
PrideStaff Financial has consistently earned Inavero's Best of Staffing Diamond Award for exceptional Talent satisfaction. Our highly skilled staffing consultants can assist you with your hiring needs. Contact us today to learn more.