Dealing With March Madness in the Workplace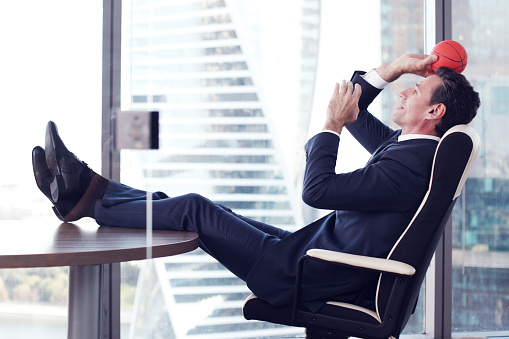 The month of March brings with it a busy time of year, for many reasons. It's usually the time when spring cleaning (both at the office and at home) occurs; spring fever sets in; and many vacations are taken. However, it's also the culmination of a long and arduous basketball season. March is March Madness for basketball fanatics, and many employees are paying a great deal of attention to their brackets. That could turn into a slump in productivity—unless you can plug into their basketball energy! Here's how.
Set policy standards.
Any company that understands the importance of this time of year should have a clearly defined policy in place before allowing certain March Madness activities in the workplace. Provide examples of acceptable workplace activities, as well as appropriate use of the organization's IT systems (e.g., computers, mobile devices, etc.). Make sure to address acceptable live stream practices and specific times of day it will be allowed
Get in on the fun.
Office brackets are ok, many companies do pools and brackets for the Super Bowl, why not for March Madness? Just make sure there are no legal repercussions. Set strict betting limits and clear guidelines around who may participate and who may not. For example, many companies don't allow CEOs or managers to place bets in office pools. Also, keep bets small, no more than $20.00 per bracket for example. Consider offering a free office pool, with winners receiving things like company gear, a free jeans day or temporary use of a CEO or management parking spot. This is great for companies who don't want to support gambling behaviors, but still want employees to have fun.
Take advantage of lunch and breaks.
Everyone in the office has to take breaks and eat lunch right—why not utilize that time to allow staff to watch games in break rooms or conference rooms? Not only will this keep employees off live streams during their actual "work time," it will boost morale when employees feel they can enjoy both work and their favorite sport together. It also motivates staff to watch games at work, instead of heading out to a bar to watch games, where drinking and other unsafe behaviors may occur.
A little competition never hurt.
Most individuals have favorite players or teams they root for. Designate days during the tournament that employees are allowed to show a little team spirit. Staff can wear their favorite jersey or sports gear to cheer on their team. Just be sure to set guidelines as to what is and what isn't appropriate sports apparel. This is a great way to show your staff you are a team player and do a little office team building.
PrideStaff Financial is a 5-star diamond award recruiting firm. Our staffing consultants understand what matters to you most. Contact us today to learn how we can help your business.