How to Say Thanks to Your Employees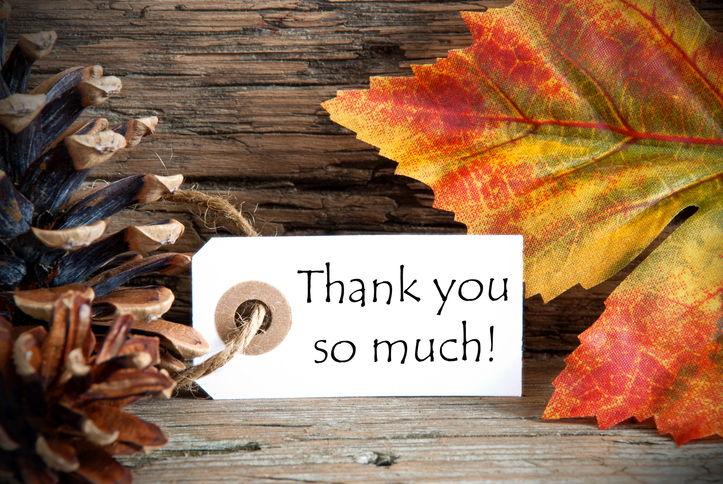 No matter how you celebrate this festive season, the holidays are a time of year that signifies the ending of one season and the move into a brand-new year. Your employees are the foundation of your company—you wouldn't be able to do what you do without them! So here are a few ways to say thanks without breaking the bank.
Make it personal.
Don't take the plain-Jane approach to sending out greeting cards or thank-you cards around the holidays. Buying the stack of bulk cards and giving everyone the same one doesn't truly express your gratitude for all they do. Instead make sure you attach a personalized message or card to every gift, no matter how big or small.  Make each card unique or personal. Buy a selection of card varieties so everyone gets something a bit different. Thank each person by name, and write about how their unique contributions and achievements have helped the company. Make sure to thank their family too.
Say thanks by saying stay home.
Every employee wants a little extra time with their loved ones this time of year. Thanksgiving is a short holiday; offer an extra day-off for everyone to have an extra-long weekend. Or, offer employees the option to work from home the Monday after, this way it's a win-win for everyone. Doing something as simple as this shows just how valuable your employees are to you.
Have a little fun at work.
The day before Thanksgiving, or the week of, set up a television in the break room and play a holiday classic. You can tac this on at the end of lunch hour (to give employees longer break periods) or toward the end of the day. Movies such as Planes, Trains, and Automobiles or A Charlie Brown Thanksgiving, are great classics and perfect for this time of year. Offer popcorn or other goodies to snack on, and make sure the entire office is welcome to join in.
Family day at work—and pets too!
Offer one day where employees can bring in their spouses or children to work for the day. Set up the break room, lunch room or a meeting space as a designated play area for the kids—outfitted with a TV for movies and some arts and crafts projects. Allow employees to show their families around. And for those who don't have extended family yet, allow them to bring in a cherished pet (with rules set up ahead of time for office pet responsibility). You can make this a short timeframe, but it sends your employees the message you care about what they care about.
In the end, the best thing you can do is pull each employee aside for a quick chat and simply say "Thank You." Go over all they have done for the company, what they have achieved and how grateful you are for the work they do. Nothing gets the message across like an honest to goodness and thoughtful thank you!
Looking to recruit great accounting and finance talent?
PrideStaff Financial is a 5-star diamond award-winning recruiting firm. Our highly skilled staffing consultants can help you with your hiring needs. Contact us today to learn more.