Why Conflict Can Spark Innovation in the Workplace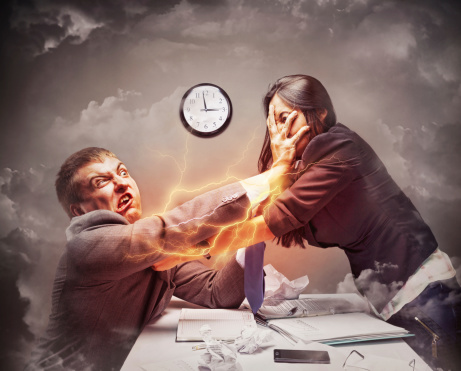 Who knew that conflict in the workplace could be a good thing? According to recent research, it is! Conflict has been suggested to trigger creativity and team innovation. While having a workplace littered with "yes" men and women seems like the smart thing to do, hiring individuals who push creative boundaries and thinking is not a bad thing. In fact, it may be the best thing you do for your business. Learn to hire individuals that will offer professional and respectful arguments that can lead to bigger and better ideas for your business.
Conflict is innovation.
Change the concept of innovation—what it looks like beyond new products and services to include strategic innovations. Strategic innovations can be anything from new ideas about mission, values, and goals to administrative innovation—changes in internal systems, or even field-level innovation including solutions for better serving customers. Conflicts about change within an organization create the atmosphere, when done in a positive and respectful way, for innovation of the above to take place.
Think of conflict as good debating.
Not every employee will agree with something someone has recommended. If you have an employee or manager who's in a position to disagree and can back up the argument or position, let them. As long as everyone is listening to others' ideas and considering the pros and cons, your employees have the right to voice constructive ideas. This is what's considered healthy debate, and it's usually good for business.
Out of conflict grows collaboration.
Challenging people's thoughts and ideas can bring valuable insight into why people think and act the way they do. As a leader in your business, well-managed disagreement not only helps the project or situation being discussed, it helps strengthen working relationships by giving a sense of overcoming adversity among staff. A team that comes through the other side of conflict will usually end up more productive, bring innovation into the fold and create a stronger workplace than ever before.
Healthy conflict creates a learning atmosphere.
Most individuals want to learn; they want to feel they are gaining valuable insight and skills from their employment. Conflict can create those opportunities. No one has all the answers, and no one person can foresee every challenge the business will face. It takes a good leader and an emotionally healthy team to establish the right solutions to problems. Healthy conflict can provide a much-needed process of elimination in finding the right solution. This process helps your employees grow and change while developing new opinions, thoughts and ideas.
PrideStaff Financial is a 5-star diamond award recruiting firm. Our staffing consultants can offer the guidance and expertise you need. Contact us today to learn more.