Would It Kill You to Say Thanks?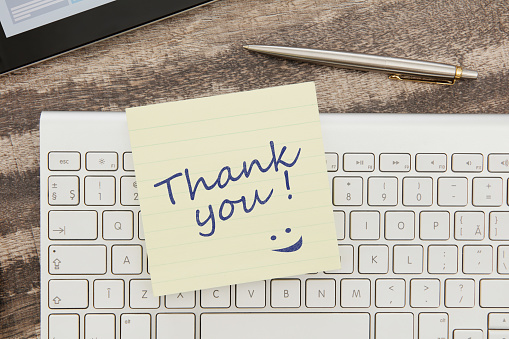 Sometimes a simple thank you is all your staff needs to stay motivated and feel appreciated. But all too often we take them for granted. The holidays are a perfect time to remind ourselves to take a moment and just say thanks!
Words of thanks
It's not always about gifts, bonuses or promotions to show staff you appreciate them. Sometimes the best way to show gratitude for hard work and dedication is to simply say "Thank You." Point out specifically what you are thankful for. For example, "I really appreciate your assistance with last month's project," or "You stepped up to the plate during audit season and put in extra time—it's greatly appreciated." Taking time to point out specifics tells your staff you are really paying attention to the time and effort they are putting in, and you'll see the same amount of dedication going forward for doing so.
Don't go digital
While it's easier to send an email or text saying thank you to an employee or staff, it is impersonal and doesn't convey your deepest sincerity. Take the time to write a handwritten note to each staff member. It's a unique way to show them they are valued members of your team. If you'd like to be more public in your gratitude to specific employees, put a note of thanks on an employee bulletin board or company newsletter.
Everyone loves food
If you are looking for a personal way to say thank you to staff and management, take the time to cater a luncheon for everyone. It's a great opportunity for you to get creative, and it allows everyone a chance to relax and enjoy the holiday season.
Utilize staff meetings
Another great way to show or say thanks to employees is to take the time during regular scheduled staff meetings. These meetings can be monotonous; employees know what is going to be talked about. Surprise them by saying thank you during the meeting. Be specific in your thanks, and offer a round of applause for a job well done.
PrideStaff Financial is a 5-star diamond award recruiting firm. Our staffing consultants offer top tools and tips for your industry's success. Contact us today to learn more.