Your Onboarding Process Should be Including These 4 Things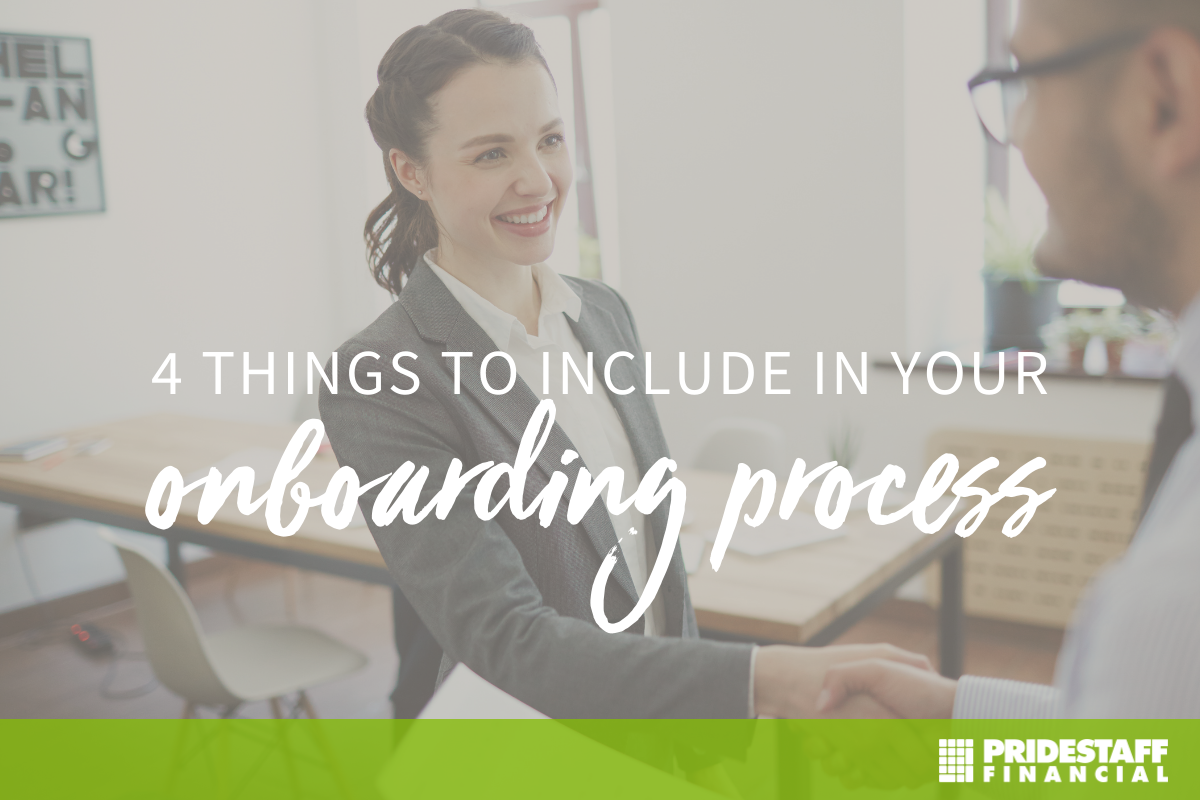 Effective onboarding programs can improve employee performance by 11.5%, according to recent research. Whether you're having difficulty recruiting top talent, are experiencing increased new hire turnover, your new hires are struggling to become productive, or your internal candidates are not excelling at their promotion as you would have hoped, these four tips will help improve company workflow and performance all-around.
1. Revamp the onboarding experience
Most traditional "first-day-only onboarding" has shown to impact retention negatively. Only 4% of new hires decide after the first day that they are sure they want to stay with their current company. However, if the new hires take part in a structured onboarding process, 66% of them are likely to remain with a company for longer than three years, according to the Department of Labor. There are several elements that you can add to your onboarding process to improve retention. Create an employee-focused onboarding process that emphasizes the individual strengths of the new hires. Extend the length of onboarding to impact employee turnover dramatically because it provides more time for coaching, sharing information, and answering questions. Ask new hires "why they quit their last job" during the onboarding process. This may provide your managers with insight into which factors may again cause them to quit this new job.
2. Preboarding can help engage new hires immediately
If you want new hires to "hit the ground running," it's important to reduce first-day stress even before they start. You want new hires to be fully engaged with the company. Before their official first day, provide an innovative onboarding portal that includes an online virtual tour that provides new hires with information about your company. Send an electronic welcome packet, with the company history, core values, press clippings, and what a new employee should expect during their first day, week, and month. Also, the night before starting, have the direct supervisor give new employees a call to make sure that they know "where to show up and when."
3. Onboarding isn't just for hiring now
It's important to see onboarding as a benefit to the entire company, not just new hires. Onboarding can play a crucial role in improving your recruiting processes. Start by surveying your new hires about the recruiting process that they just completed. Ask them which factors caused them to say yes to your offer, and which parts worked and didn't work. Onboarding should also be seen as a great way to gather names, so ask new hires to make referrals from among the best employees that are still working at their previous company or colleagues they know of that would be a great fit for your company. It's important to realize that all of the friends and close colleagues of the new hire will likely contact them during or immediately after onboarding to ask them what it's like to work for your company—what their experience is like. This means that if you make a powerful impression, onboarding can help spread your employer brand message that your company is a great place to work.
4. The buddy system
Providing new hires with a mentor or peer buddy can positively impact productivity, experience, and retention. Doing this allows new hires to feel connected to the company more intimately. It also creates an atmosphere of support, nurturing, and a desire for the new employee to succeed.
Get Onboarding Right
PrideStaff Financial has consistently won awards for exceptional client satisfaction. Our highly skilled staffing consultants can help you find the best job candidates to meet your business needs. Contact us today to learn more.